WASHINGTON -- House Majority Leader Eric Cantor (R-Va.) has drawn a primary challenger who's hoping to raise money by selling an array of products -- including dog clothes, throw pillows and hoodies -- with Cantor's face on them.
Floyd Bayne is now on the June 12 Republican ballot in Virginia, according to his campaign website. Bayne previously ran against Cantor as an Independent, but this time he's running to the right of Cantor.
"Help win the fight to bring real constitutional change to Virginia's 7th district today by contributing to the only conservative candidate in the 2012 congressional race," reads Bayne's website.
As he did in 2010, Bayne is pressing Cantor for a public debate, which doesn't appear to be in the works. In the meantime, Bayne is selling an array of shirts and other products with a picture of Cantor's face on them and the words, "Cantor Can't Join The Debate Team."
The best selections? It's a tie between the hoodie with Cantor's face on it, the throw pillow and dog clothes.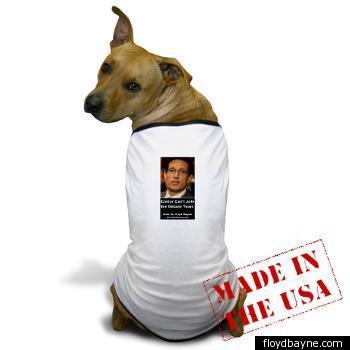 BEFORE YOU GO