Here's the team who will be blogging about the book:
Andrew Losowsky, Books Editor
Annemarie Dooling, Community Editor
Zoë Triska, Associate Books Editor
Madeleine Crum, Assistant Books Editor
Click here to learn about our associations with the military.
Our forthcoming online discussions will be:
Sunday April 1st - Chapters 1 & 2 (Temple of Mars, Killing)
Sunday April 8th - Chapters 3 & 4 (Guilt, Numbness and Violence)
Sunday April 15th - Chapters 5, 6 & 7 (The Enemy Within, Lying, Loyalty)
Sunday April 22nd - Chapters 8 & 9 (Heroism, Home)
Sunday April 29th - Chapters 10 & 11 (The Club, Relating to Mars, Afterword)
Add your comments to the bottom of the page and follow our hashtag #HPBookClub on Twitter. And join us in Seattle on April 18th to meet with Karl Marlantes.
05/06/2012 6:48 PM EDT
Chapter 11: Relating To Mars
"How does one relate to Gettysburg, or Stalingrad, or Hiroshima? Yet we must, or similar events will happen again."
In this final chapter of What It Is Like To Go To War, Marlantes begs of us the empathy he opened the book with. If in chapter one he begged an open mind for the readers of his memories, here he asks for understanding with all soldiers, and anyone who will be in combat moving forward. If we don't begin to try to relate, how will we deal effectively?
To this he introduces Waite's dictum and the warrior's dictum.
Click below to continue on to possible spoilers.
05/06/2012 6:17 PM EDT
Readers, both silent and vocal: Thank you
We're winding down our discussion on What It Is Like To Go To War and before I post talking points on the final chapter, I'd like to thank everyone who participated in the reading.
When we began the Huffington Post Book Club, we knew that some books would be a hit online, and some would be quieter, but just as important of a read. This was a very different kind of book club discussion, with the bulk of the conversation happening off the Internet or in private correspondences. We couldn't be more honored to have been a part of your thoughts around this often heartbreaking and riling topic.
Indeed, receiving extremely personal essays via direct email, and sharing information with veterans during our in-person discussion with Karl Marlantes in Seattle was the highlight of many of our careers, and, in short, the reason we continue efforts with a club like this. If we've connected just a few of you through the reading, we've become very, very happy.
So before we announce who you picked as the next read, and before we take our two-week hiatus to prepare for the following conversation, here's yet another big thank you. You may not read every book, or agree with every talking point, but you've all made your voices loud and clear - and it's been invaluable to us as well.
- Annemarie
Community Editor, HuffPost Books
05/01/2012 2:15 PM EDT
What does manhood have to do with silence?
I've been thinking a lot about the intro to chapter 10, where Karl Marlantes gives an extremely eloquent preface about 'the club' that soldiers returning from combat are mentally entered into. This club, he says, needs to rescind its requirement of silence.
Mentioning previously that the club was primarily a boy's club, more frequented by men, there's a direct connection there between that painful silence and earning your manhood.
Why do we connect becoming a man with suffering in silence? Why do men have to suffer quietly?
- Annemarie
04/29/2012 5:24 PM EDT
Chapter 10: The Club
In which Karl ends the book discussing the complex nature of being "a veteran" in a society that doesn't want to hear real war stories.
Click below to read more.
Key questions:
How should we discuss war, and hear warriors' stories? How can veterans truly tell tales of the complexity of warfare, of the sorrow and the pride, in a way that benefits both teller and audience?
04/29/2012 5:10 PM EDT
The Conflicted Nature Of Being At War
Author Sarah McCoy wrote a piece connected to this book, about how she tried to understand the mindset of a Nazi soldier for her latest book, The Baker's Daughter:
Soldiers often dig deep emotional graves for the memories of their war-filled weeks, months, and years. They want that part of themselves, who they were during that time, to be dead. Even if they never hurt a soul, fear is a dark and menacing thing. Our men of war aren't supposed to be afraid. They're supposed to be superhuman; yet, like the Nazis, the lore of their title often belies the actuality. Mankind is made of the same stuff, now and then, here and there. It trembles at darkness. It cowers at death. We may not see these signs in the flesh, but the soul can't negate instinct.
04/29/2012 5:06 PM EDT
Chapter 9: Home
In which Karl relates what happened when he returned from Vietnam
Click below to read on.
Key questions from this chapter:
How should we welcome back returning warriors?
What do we do right, and what do we do wrong?
What is your experience of those first few days back in America?
04/26/2012 2:18 PM EDT
Thanks to everyone who came out last week
It was fantastic meeting everyone in Seattle. Thanks for coming out to Elliott Bay Books and meeting with our team and Karl Marlantes. We hope to read all of your thoughts in the final discussion posts and see you again at the next event!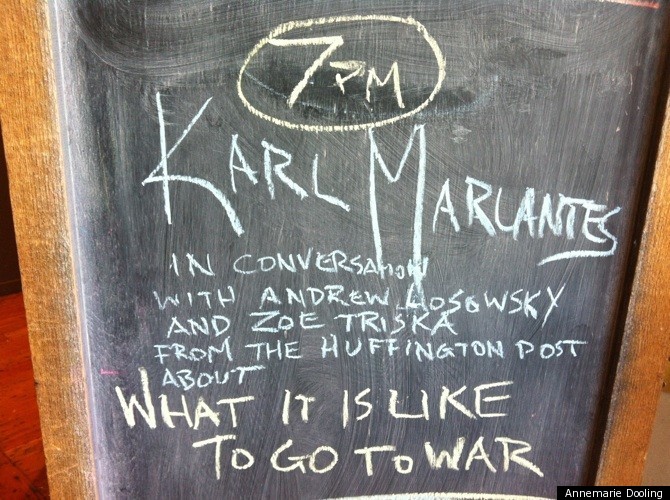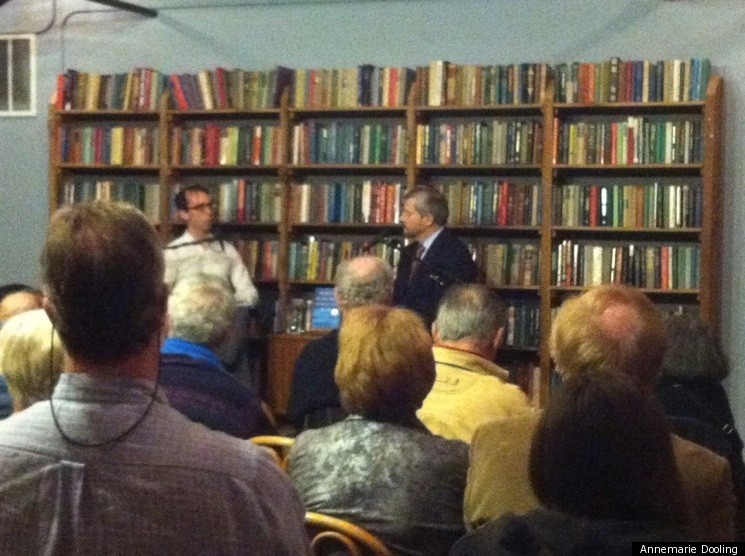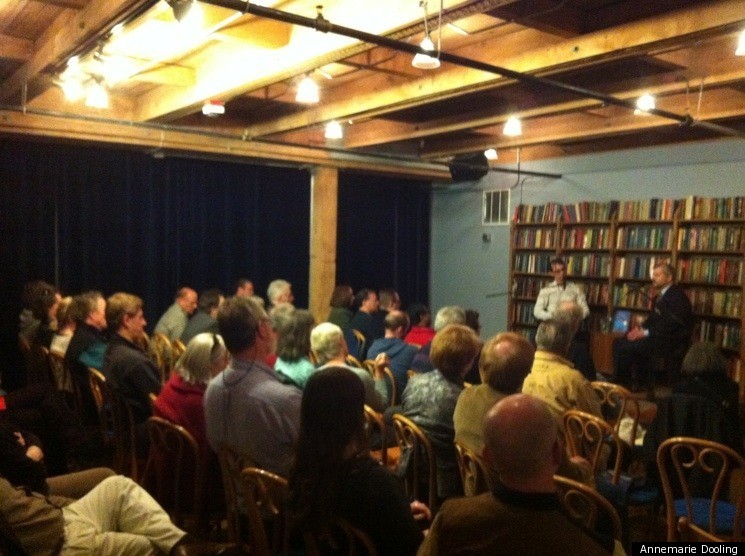 04/25/2012 11:03 AM EDT
Terri Barnes: Marlantes Has Earned The Right To Speak Hard Truths
Terri Barnes writes a great personal essay on the intersection of religion and war, as well as dissecting the idea of who exactly should write about war...
"Today's military command structure must avoid offense and litigation by even the appearance of advocating one faith or any faith at all. Commanders are instructed to shun any training that mentions faith or refers to holy writings. Instead they are instructed to leave that to the chaplains, and keep the chaplains where they belong.
Another of Marlantes' passages illustrates that spiritual guides who are separate from the fighting force have little credibility to minister to the warrior's spiritual needs. If spiritual guidance is compartmentalized rather than integrated, it will have little effect. As Marlantes points out, when warriors are encouraged to think their actions in war have no spiritual context, when they return from combat, they have more difficulty putting their actions into any context at all. Some atheist groups within the military are currently seeking instatement of chaplains to represent their beliefs. Perhaps they, like Marlantes, recognize a need for a similar context within own ranks.
We of all faiths and of no faith should be less concerned about what offends our personal convictions and more concerned about what fulfills our human obligations to our fellow citizens, particularly those who fight our wars. Offering one another empathy, forgiveness and understanding violates no valid principles or belief systems."
04/23/2012 5:33 PM EDT
The Shadow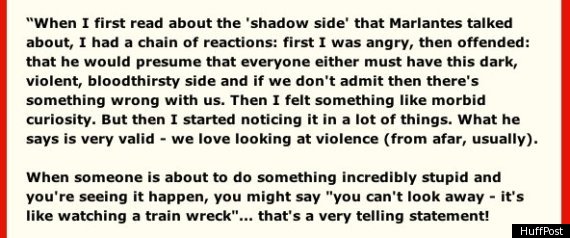 04/22/2012 6:48 PM EDT
Chapter 8: Heroism
"A wise man once said to be careful of what you wish for, because you may get it. I wanted to be a hero."
So begins Chapter 8 of "What It Is Like To Go To War," a section in which Marlantes admits many of his own faults, including the desire to appear "special" relative to his fellow soldiers.