This Craft Of The Day is for the birds! The whimsical mobile adds a touch of sweetness to a child's room or nursery...but we might borrow the idea for ourselves. Suspended from the ceiling with fishing wire, the tree branch is filled with cheery birds that strike the right combination of mod style and whimsy. Keep reading for the how-to.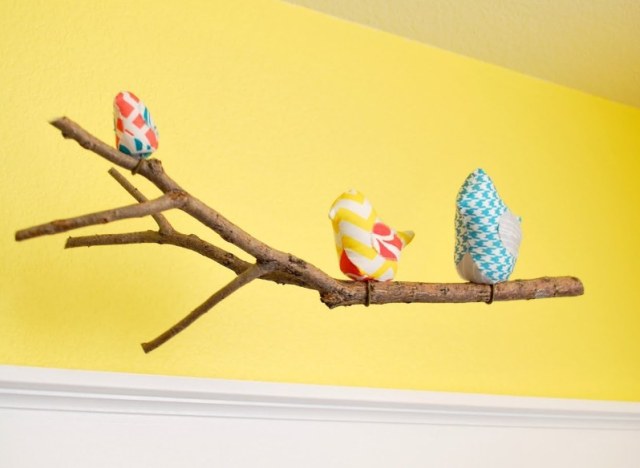 Photo by Allison Michelena of A Glimpse Inside
What You'll Need:
Fun fabrics in different patterns
Polyfill stuffing
Tree branch
Cardstock
Scissors
Straight pins
Fishing wire
Eye hook
Elastic hair tie
Thread
How To Make It:
1. Draw three different sized bird shapes onto cardstock and cut them out to create templates. For each bird, you will also need to draw three pointed ovals for wings and three larger ovals for underbellies. Cut the pieces out.
2. Trace each template onto fabric. You will want two pieces of fabric facing both directions for the body and wings of each bird. Cut them out.
3. Hand sew your cut-out wings to the body pieces of your birds.
4. To sew on the underbelly, pin the template in place on one of your body pieces. Make sure right sides of the fabric are touching each other and sew along the bottom edge.
5. Pin the unsewn edge of the belly to the opposite body piece, making sure that the tails and beaks line up. Sew it in place.
6. Sew the two body pieces together, leaving a gap for stuffing. Turn the bird inside out to hide seems.
7. Stuff the three birds with polyfill and hand sew the gaps shut.
8. Cut an elastic hair tie and glue it to the bottom of each bird, near the center. Use the hair tie to slide the birds onto your tree branch, positioning them where you want them to sit.
9. Use fishing wire and an eye hook to attach the finished mobile to the ceiling.
For a full tutorial, visit A Glimpse Inside. And, be sure to check out the other great crafts in our Craft Of The Day slideshow below.
PHOTO GALLERY
Craft Of The Day