Roch Hart, a retired police officer and the owner of a Jeep tour company in New Mexico, says on his company's website that "photography has become a serious hobby" for him.
And after seeing the amazing photos of lightning that he snapped in Albuquerque, it would be difficult to disagree.
SCROLL DOWN FOR PHOTO
The photo below, which is one of several Hart snapped, was taken during an 11-minute lightning storm over the city.
While lightning may dazzle our senses and leave us in awe, it can certainly be dangerous. According to the National Weather Service, lightning strikes are responsible for about 54 reported deaths per year in the United States. About 10 percent of those who are struck by lightning are killed.
The New York State Department of Health advises those who find themselves in thunder or lightning storms to seek shelter immediately. When inside, people should stay away from open windows as well as sinks, showers, toilets and appliances, as lightning can "flow through these..." and "'jump' to a person," according to the Department of Health. Landline telephones connected to the wall should also be avoided as the current can flow through the wires, though cordless and cellular phones can still be used safely.
For more, including what to do if unable to seek shelter in a lightning storm and how to help people who've been struck, click over to the New York State Department of Health website.
To check out more of Hart's photos, click over to this Flickr gallery.
LOOK: Lightning Strike Over Albuquerque, New Mexico: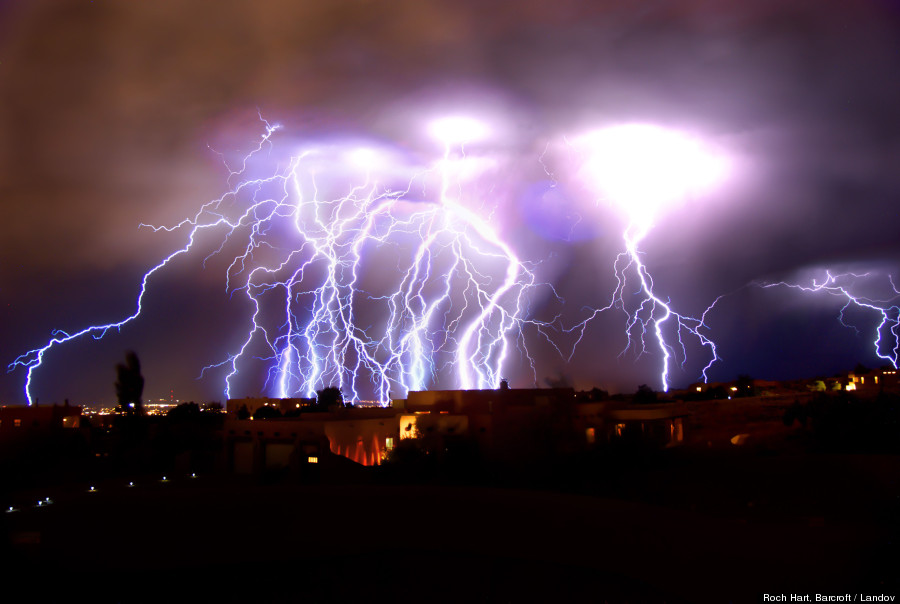 CORRECTION: An earlier version of this story incorrectly stated that Albuquerque is the capital of New Mexico. Santa Fe is the state capital.