Not to gossip, but does anyone else think Kate and Wills have been looking a little... stiff lately?
Oh! That's because these photos are not of the royal couple per se, but of their new wax figures, which debuted in London on Wednesday.
The first ever wax sculpture of the Duchess of Cambridge was unveiled at Madame Tussaud's in London, joining an updated version of the wax figure of William, the Duke of Cambridge.
And while we've seen some questionable wax likenesses in the past, we think whoever made these did an amazing job.
The royal wax sculptures, which cost a whopping 150,000 pounds each, commemorate the couple's official engagement announcement in November 2010, when Kate wore that iconic blue Issa dress and showed off her sapphire-and-diamond ring, formerly worn by the late Princess Diana.
"Kate" is reportedly wearing a replica of the ring, although we can't tell from the way they've posed the statues. Drat!
The debut of these royal couple waxworks in London precedes the launch of three other Duchess of Cambridge likenesses. Two others will debut at Madame Tussaud's in Amsterdam and New York, where "Kate" will be wearing the black lace Temperley gown from the "War Horse" premiere and the purple McQueen from the BAFTA "Brits to Watch" event, respectively.
And at Madame Tussaud's Blackpool, wax Kate will be wearing a replica of that famous Jenny Packham gown.
The wax figures of Kate and William, debuted weeks before the couple will celebrate their one-year anniversary, are expected to be the most popular attraction at Madame Tussaud's in London.
Check out the photos of the royal couple in wax form and real life -- can you tell which is which? -- below, and then see more pics of Kate & Wills' wax debut in the slideshow.
PHOTOS: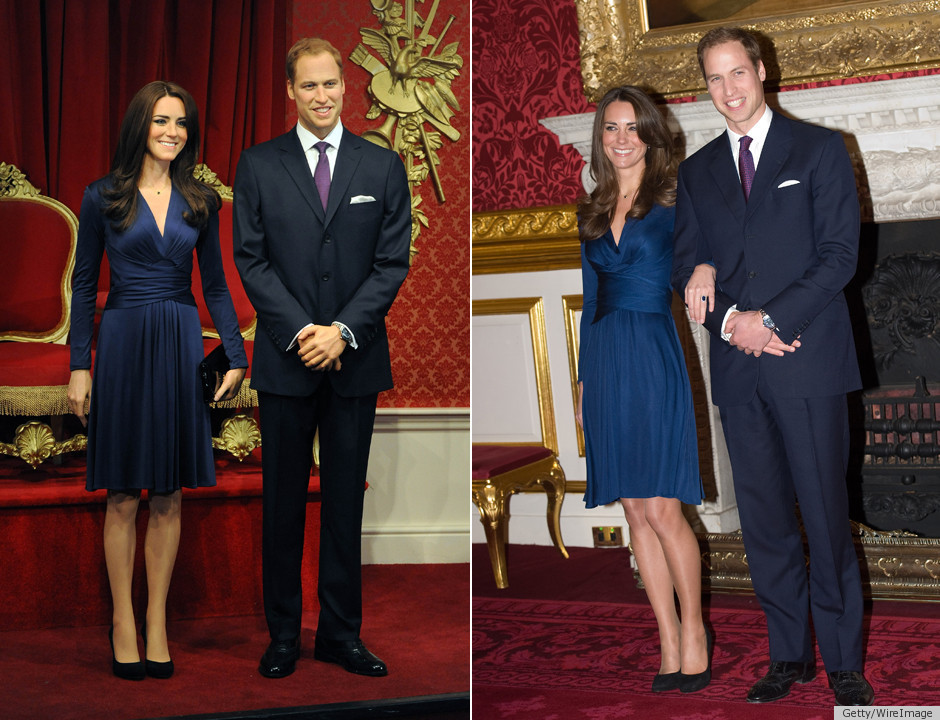 PHOTO GALLERY
Will and Kate