If you grew up in a Jewish home, or spent a lot of time in one, you are probably familiar with the kosher food brand Manischewitz. You've probably eaten the matzo, nibbled on the Tam Tams crackers and perhaps even gotten drunk as a teenager on the cloyingly sweet Concord grape wine. Perhaps you begrudgingly ate some coconut macaroons, while simultaneously whining about how dry they were and how you wished Passover desserts would just taste a little better.
It looks like Manischewitz might have finally listened to you. Co-presidents and CEOs Alain Bankier and Paul Bensabat are working to make the brand relevant to a younger consumer while still making sure that Nana is happy. That means in addition to those coconut macaroons, there are also now 12 other flavors including mint chocolate, almond and rocky road.
"We need to make sure that Manischewitz, which is 124 years old, is able to adapt and move on to the next century," says Bensabat. "A lot of Passover foods didn't have much taste. "In the past four years, we have been trying to make Passover food much more exciting. We introduced 30 foods last year and 30 foods this year." Bensabat believes that some of these items, such as their red velvet cake, are competitive with any of the top cakes brands on the marketplace today.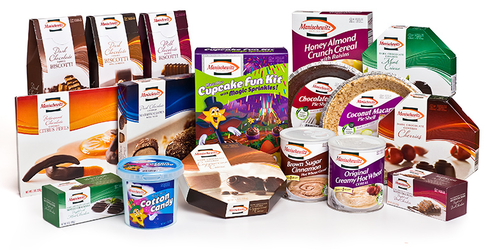 While products like red velvet cake and a cupcake kit for kids are newer innovations, that doesn't mean that Manischewitz has forgotten what made the brand a pantry staple. "People have a strong, emotional bond with our products," says Bankier. "We are very, very careful about changing the flavor profile." That being said, Manischewitz tinkers with recipes all the time. "Anytime we have an opportunity to upgrade to an all-natural product, we will do that," adds Bensabat. Even a product like gefilte fish, which has been long known as the pariah of Passover food (except for the faction of diehard fans who love the stuff), has gotten a much-needed facelift. The gefilte fish now has no preservatives (though it still has a long shelf life) and is also available in reduced sodium varieties.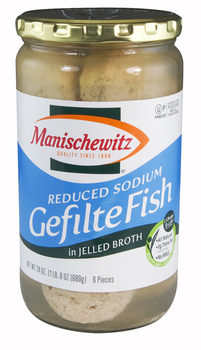 The company is focusing on three broad food categories in order to elevate the brand: comfort food, vegetarian food and health & wellness. In the health & wellness category, the brand has affixed green logos with the text "L'Chaim! To Life!" on products that offer certain health benefits such as reduced fat. The packaging has been updated, though the iconic Manischewitz logo remains untouched.
"We are turning all the Manischewitz products into real culinary products. Not products people are buying because they have to buy kosher," says Bankier.
All About Matzo
Manischewitz's plant in Newark, New Jersey produces 180,000 cases of matzo annually. That's 75,600,000 sheets. In an interview with HuffPost Food, Bankier and Bensabat describe describe the process of producing matzo.
Can you walk me through the process of making Passover matzo?
Bensabat: Manischewitz is the largest maker of matzo in the world. We have a state-of-the-art facility. We can produce in this plant enough matzo that could go around the world twice. We produce matzo all year-round.
How does Passover season differ from the rest of the year for Manischewitz?
Bankier: We think about this very early on. On some lines, we start manufacturing products for Passover as early as August and go through December. From the end of December to March, we are delivering products to distributors and retailers so they can be ready for consumers for early to mid-February.
Bensabat: Big retailers set up shelves two months before Passover. You see an amazing expansion of the kosher aisle; it expands tenfold because of the importance of Passover. Retailers use Passover to get customers.
Can you talk about the process of making sure that all your products are kosher for Passover?
Bankier: There are two main reasons that kosher for Passover is different than just kosher. There's a cleaning just like an observant Jew would do at home to make sure there is no chametz [any leavened food product]. Secondly, to make something that is kosher for Passover, you have to use ingredients that are kosher for Passover. Any ingredient you find on the label has to be kosher for Passover; there are no leavening agents and especially in the Ashkenazi tradition there are no legumes, no rice, no rice powder. We use raw materials and ingredients that themselves are kosher for Passover. It has to go all the way back to the supply chain -- for something to be kosher for Passover, the parts have to be kosher for Passover.
Where do the rabbis fit in?
Bankier: The rabbis and mashgiach [an observant Jew who supervises the kosher process] observe all this. They observe that the cleaning is done appropriately. This is an ongoing process.
Check out photos of the Newark plant and the matzo production line below, courtesy of Manischewitz:
PHOTO GALLERY
Manischewitz Plant