By now we all know Beyonce and Jay-Z certainly aren't going to sell out, but just in case we needed a little added reminder, Beyonce has released a number of very personal photos on her Tumblr page, a bit out of character the normally very private superstar.
Following the birth of Blue Ivy in early January, the world waited with bated breath for the first photos of one of the world's most famous babies. There was much speculation as to where Jay-Z and his bride would choose to introduce the world to their tiny tot and to the surprise of many, late on a Friday night in February, Jay-Z took matters into his own hands. The hip hop star shared the sought-after photos of his brand new family on his website, Life and Times.
Wednesday was Beyonce and Jay-Z's fourth wedding anniversary and it looks like the the pair has opened up since the birth of Blue Ivy. Global Grind first reported the news that Beyonce was set to release over 150 photos as a celebration of their nearly 10-year relationship, and indeed she did.
The Tumblr, beyonce.tumblr.com, shows photos from their honeymoon, their performances together, their family and some very candid shots of Beyonce through the years. With the photos Beyonce shared this with her fans, "I Am: This is my life, today, over the years - through my eyes. My family, my travels, my love. This is where I share with you, This will continue to grow as I do. Love, Beyonce."
Here's a sneak peek of some photos, but head over to Beyonce's Tumblr for a look at them all.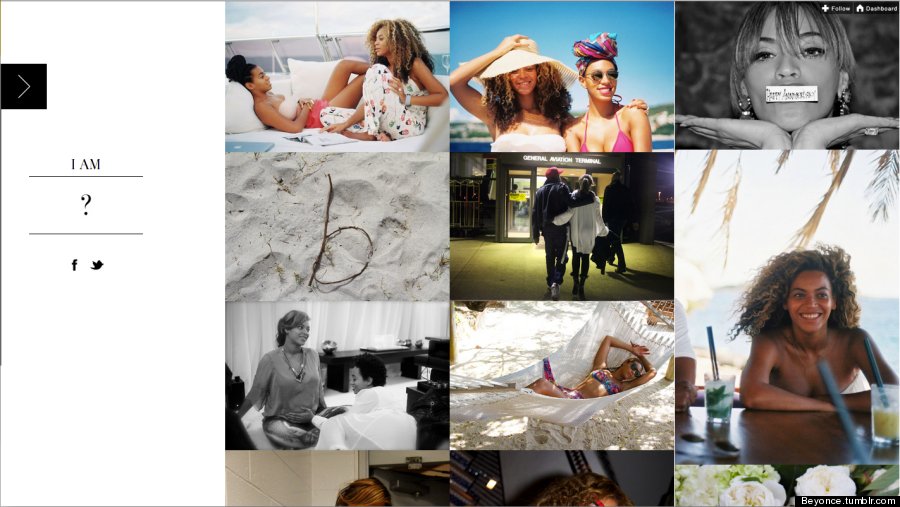 BEFORE YOU GO
PHOTO GALLERY
Beyonce's Baby Bump