How do you raise awareness and shift perceptions on an issue that's contentious, but flexibly so? Something that everyone knows of (and a majority have experienced), but few have verbalized their support for (excepting this, of course).
Supporters of Colorado's Amendment 64, a 2012 ballot issue to regulate marijuana like alcohol in the state, are seeking answers to precisely that question.
Campaign co-director Mason Tvert and the crew behind Amendment 64 thus have an interesting task: build consistent support for a subject historically championed by liberals, yet recently backed by Denver Republicans (to the tune of 56%), and endorsed by extremely conservative television evangelist Pat Robertson.
"You might have a situation where you have 51/38 one week, something happens and a month later, it could be 38/51 the other way, and it could switch right back," said Colorado State University Political Science Professor Kyle Saunders to KUNC in a recent radio segment on the subject. "That's different than something like abortion. You know where you stand on abortion, and it very rarely changes."
The most recent polling data we found on the issue of marijuana legalization in Colorado dates back to early December 2011 (though we're told Public Policy Polling will publish new data soon), a time when 59% of residents approved of Tim Tebow and 49% of respondents thought marijuana usage ought to be legal.
In that poll, 40% didn't approve of marijuana legalization and 10% remained undecided.
The first public push in this campaign? A billboard revealed Thursday on I-25 in downtown Denver (see picture below). It features a picture of a smiling middle-aged woman, and reads "For many reasons, I prefer... marijuana over alcohol. Does that make me a bad person?" Flyers supporting the same theme -- putting a human face on marijuana smokers, emphasizing they're just normal people who prefer marijuana over alcohol -- are visible beneath the billboard picture, below.
What do you think? Smart use of campaign dollars?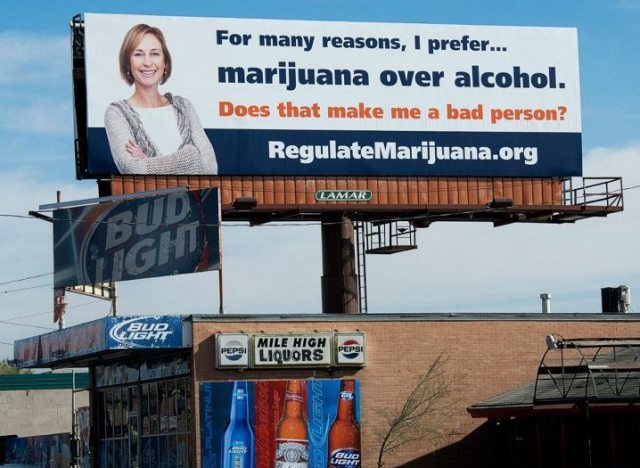 BEFORE YOU GO
PHOTO GALLERY
Campaign To Regulate Marijuana Like Alcohol Billboards