If there's one letter that Americans know to be extra-careful with, it's "K." Especially in multiples of three. As far back as, oh, Reconstruction, the triple-K has been linked to the Ku Klux Klan, the most infamous and violent White Supremacy group in the country. But apparently no one sent that memo to upscale homeware company DeLonghi, which is based in Treviso, Italy. When the company was putting together the in-store display ads for its new line of colorful kitchen appliances, under the brand name "kMix," it accidentally put three words starting with "K" in a row: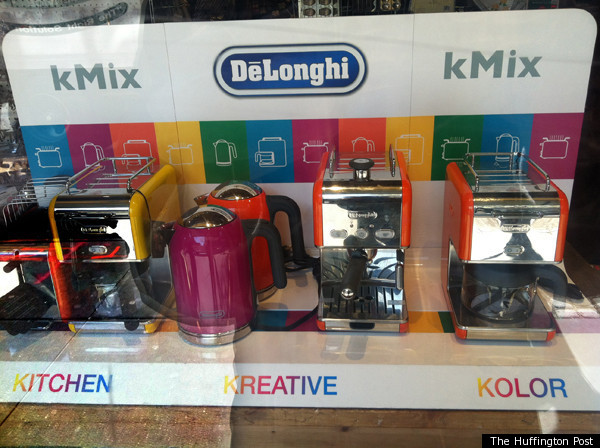 The consecutive K-words were clearly unintentional, and seem to have remained unnoticed by most. There's certainly no reason to believe DeLonghi meant to refer to any political agenda whatsoever in its choice of slogan.
DeLonghi corporate headquarters confirmed this when contacted by The Huffington Post. A spokesperson said that the display ad was a result of a manufacturing mistake. The ad campaign for kMix products, she explained, is meant to feature four K-words, not three. The fourth is "Kool."
Indeed, a video ad for the kMix products, below, features all four K-words:
DeLonghi says that it has not received any complains about the ad campaign, but that it plans to address the manufacturing defect that resulted in the exclusion of the word "kool" from its display ads.
For the record, the products themselves look very nice -- they look sturdily built and feature beautifully saturated colors. As well they should, given that coffee makers cost $169.95 and toasters cost $99.95.