WASHINGTON -- Mitt Romney may be just over halfway to winning the 1,144 delegates necessary to clinch the Republican presidential nomination. He's even closer to an equally important milestone: Romney has built a delegate lead nearly as big as the one held by the ultimate GOP nominee John McCain when Romney decided to end his presidential bid in 2008.
Delegate counts by news organizations vary, but all show Romney with a better than 2-to-1 lead over Rick Santorum. The Associated Press estimate gives Romney 658 delegates to 281 for Santorum, 135 for Newt Gingrich and 51 for Ron Paul.
The inconsistent delegate counts result from uncertainty regarding how many delegates each candidate is likely to win in the caucus states where delegates are technically unbound. In reaching its estimate, AP looks at the unbound delegates who will eventually emerge from a multi-step selection process under way in eight caucus states and attempts to calculate the number of them each candidate will eventually win. AP also factors in any public endorsements made by the officially unbound party and elected officials selected as "automatic delegates."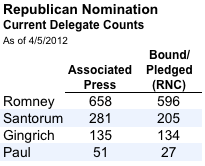 The official count produced by the Republican National Committee, which includes only formally bound delegates, gives Romney 596 delegates to 205 for Santorum, 134 for Gingrich and 27 for Paul.
But counting mechanics aside, the current AP delegate total of 658 for Romney comes remarkably close to McCain's share of the delegates after he won big in the Feb. 6, 2008, "Super Tuesday" primaries and caucuses. The AP tally published the next day gave McCain 703 of the 1,191 delegates then needed to win the GOP nomination, compared to 293 for Romney and 190 for Mike Huckabee.
As a percentage of the delegates that had been allocated, McCain's delegate lead over Romney the day after Super Tuesday (59 to 24 percent) was only slightly larger than Romney's lead over Santorum today (58 to 25 percent).
The comparison to the post-Super Tuesday totals is important, because shortly after confronting what the Boston Globe described as "an unforgiving mathematical landscape," Romney chose to end his campaign for the 2008 nomination.
Romney has taken longer to reach the same rough delegate share as McCain achieved by early February 2008 largely because the Republican primary and caucus calendar is far more backloaded this year. As I pointed out this past November, simply rearranging the 2008 primary results to match the 2012 calendar would have pushed back the date at which McCain went over 700 delegates until April, following the Wisconsin, Maryland and District of Columbia primaries.
Romney's current delegate wins are in some ways more broad-based because McCain picked up a major chunk of his post-Super Tuesday total in just four states that haven't voted yet this year. McCain won a 326-to-3 delegate wipe-out of the other candidates in the Super Tuesday contests in California, New York, New Jersey and Connecticut.
Looking forward, Rick Santorum's numbers look at least as bleak as Romney's post-Super Tuesday total four years ago. The New York primary has changed from winner-take-all allocation in 2008 to what amounts to winner-takes-most this year, but the rules in those other three states are roughly comparable. All still lie ahead, and polls show Romney with big leads in California, New York, New Jersey and Connecticut.
More important, statistical modeling of the remaining primaries offers Santorum little hope. Specifically, a model of the remaining contests published by The New Yorker projects that Romney will have amassed 1,122 delegates -- just 22 short of what he needs to win -- by the final primary contest on June 26. And that model makes no projection for the 598 technically unbound delegates, mostly from caucus states.
"If Romney is only slightly short of his magic number," the New Yorker report explains, "it will be easy for him to win the support of unpledged delegates from states that he won, like Illinois, Maine, and Washington."
On Thursday, Sen. McCain urged Santorum to make a "graceful exit" from the Republican presidential campaign. McCain made no mention of Romney's decision to do the same four years ago when he faced similarly daunting math, but Romney no doubt hopes that Santorum will follow his own example and bring the 2012 Republican contest to an end.
BEFORE YOU GO