OK, so earlier today, I noted that Rick Santorum is meeting with some group of conservatives in Virginia about how they will "Stop Romney." How will they do that? It's not clear. My suggestion is for Rick Santorum to arrange things so that he gets killed in a light saber battle with Mitt Romney, on the grounds that if Santorum is "struck down," he will go on "to become more powerful than [Romney] could possibly imagine." The scuttlebutt, however, centers on the idea that Santorum can team up with Newt Gingrich and somehow combine to defeat Romney.
Do I even need to explain just how much this won't work? SIGH. OK, here goes.
It's been the conventional wisdom for a long time that Santorum and Gingrich are each others' own worst enemies in this race, and if only one was in the running, one or the other could consolidate the conservative vote and beat Romney with it. That's some high-grade 2012 speculation in concentrated form. The problem, though, is that it's never been clear that Santorum was ever the natural second choice of Gingrich voters, or vice-versa. In fact, our own Mark Blumenthal very recently reported that mid-March polls showed that Gingrich's departure from the race was not necessarily going to redound to Santorum's benefit: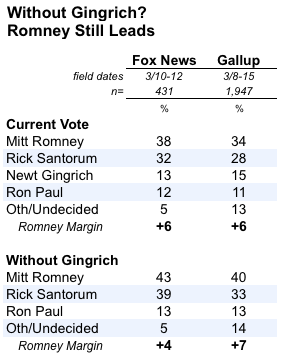 Both surveys also asked Republicans which candidate would be their second choice. Gallup reports that current Gingrich supporters divide almost evenly between Romney (40 percent) and Santorum (39 percent), with fewer favoring Paul (12 percent) or uncertain about which candidate they might support (10 percent). Thus, with the Gingrich voters reallocated based on their second choice, Gallup shows all candidates gaining support, but Romney's margin over Santorum essentially unchanged at seven points (40 to 33 percent).

The Fox News poll statement does not report the second choices of Gingrich supporters directly, but like Gallup, the Fox pollsters did recalculate Republican preferences with Gingrich voters allocated to the other candidates based on their second choices. This tabulation shows Romney's lead decreasing slightly to four points (43 percent to 39 percent), indicating that Gingrich's supporters narrowly favor Santorum over Romney on the Fox survey.
The latest from Public Policy Polling has a slightly sunnier outlook for Santorum, if by "slightly sunnier" we mean "not entirely suffused with abject despair: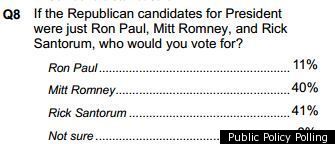 So, it's a long-shot to suggest that if Gingrich and Santorum joined forces, it would translate into a sudden series of popular vote wins in the remaining primaries for Santorum.
But to be honest, we're way past worrying about the popular vote. What matters now is the delegate count, and the conventional calculation at the moment has Romney leading with 658 delegates to Santorum's 281 and Gingrich's 135. And right away, let's all get disabused of the notion that Santorum and Gingrich can combine delegates to bring Santorum. Romney has 658. Together, Santorum and Gingrich have 416. There's no mechanism that allows Gingrich to transfer his delegates, en masse, to Rick Santorum. He is free to quit the race, endorse Santorum to the skies, and stand on his head begging his delegates to swarm Santorum's column. Some, even many, could opt for that. But there's no power that can compel this outcome, and it stands to reason that Gingrich's delegates will be at least as divided as Gingrich's voters on the matter of their second choice.
Once we're past the notion that these two not-Romney camps can marshal an army of darkness from the Gingrich delegates, we're left with Santorum's view of how his delegate argument works. If you recall, Santorum's delegate math is predicated on two assumptions. First, Florida and Arizona will eventually be compelled to delegate their delegates proportionally -- an outcome that Gingrich has also sought (to no avail) and a matter the RNC shows no stomach for relitigating. Second, Santorum assumes that he will be able to wrangle the larger share of those delegates who currently remain unbound from past primary contests.
This is where Santorum has the most trouble making his case, and it's where a team-up with Newt Gingrich doesn't get you squat. Santorum's campaign has always lacked the basic infrastructure to ensure the sort of robust ground game needed to max out its delegate count at the state convention level. Heck, Santorum's campaign has always lacked the basic infrastructure to ensure that Santorum and his delegate slates get on the ballot. The only campaign that's done a worse job at this is Gingrich's. And what did the Gingrich campaign do last week? If I recall correctly, it got slashed down to the bones. (The Gingrich camp sold this move as a "shake-up," alluding to the way one might "shake-up" a baby and accidentally kill it, I'm guessing.)
So even if Santorum literally bought the entire Gingrich campaign and all of its assets with a bag of gravel, it really wouldn't amount to a hill of beans. Of course, this will in no way stop the media from freaking out entirely for a few days if the two men join forces. Eventually, however, Santorum will lose Pennsylvania, and that will be that.
[Would you like to follow me on Twitter? Because why not?]