Timotheus Tomicek is a young photographer from Vienna whose striking images explore the tension between motion and stillness. In the words of Jenkins Johnson Gallery: "At first glance his works seem inactive, vaguely familiar, or referential; however, as the viewer becomes engaged, the complexity of the works exposes delicate movements and moments of uncertainty."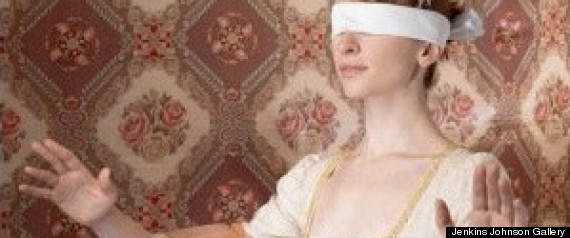 Timotheus Tomicek, "Confidence", 2011. Courtesy of Jenkins Johnson Gallery
Some moments are banal -- a finger pushing an elevator button or a girl zipping up her dress -- yet Tomicek's intense fixation on his subjects asks you to look closer. Suddenly everyday actions begin to look surreal, as the still figure shifts ever so slightly. Other photographs take on more surreal subject matters; for instance, in "One More," a woman in a ball gown crouches on the ground, and carefully makes a move in a Jenga-like game. Watch her arm shudder as she tries to keep it upright, holding the piece above the construction before it topples over.
Tomicek's works look like the meeting point of a Botticelli Renaissance portrait and a Rineke Dijkstra contemporary photo. They precisely depict familiar territory which somehow results in a type of strangeness that sticks with you even after you've stopped looking.
Are Tomicek's moving photographs stunning or just bizarre? Let us know your thoughts in the comments section below. Scroll down for a slideshow of Tomicek's still images.
Photos courtesy of Jenkins Johnson Gallery.