There's nothing a great upholstery job can't improve. Need proof? Then look no further than upholstery bootcamp instructor Shelly Leer's latest project. In less than six hours, spread over a two-day span, the Indianapolis resident transformed two Goodwill finds into a stylish Swiss Army-inspired pair of camp stools -- all under $30.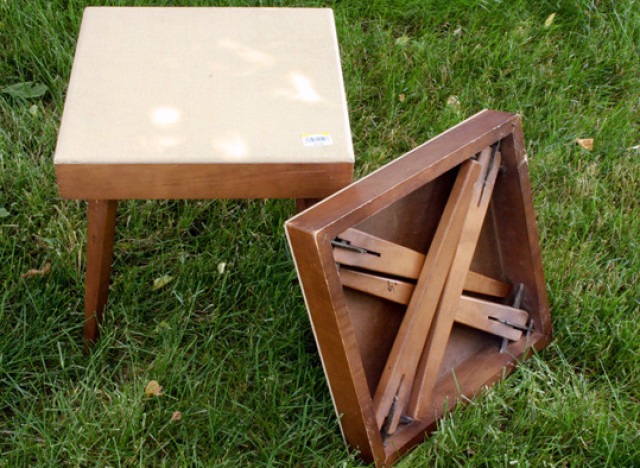 Photo by Shelly Leer of ModHomeEc
The cost is impressive enough, but we're really excited by how Leer discovered an easy, professional way to create finished edges along the Swiss Army cross cutout. She turned standard applique on its head and used a "reverse" technique that involves cutting the fabulous red burlap top layer to display white fabric underneath. The process may seem a little more tedious than regular applique, but the results look more professional and refined (and it's easier than you think!). Ready to learn how to do it yourself? Here's how Leer did it.
1. Cut a square piece of fabric large enough upholster the seat.
2. Cut out a smaller square a few inches larger than the desired size of your Swiss Army cross.
3. Placing the smaller square diagonally on the seat fabric, use a template to trace the famous cross on with chalk.
4. Pin the fabrics together and sew along the chalk lines.
5. Then, cut the center of the cross out, leaving 1/2-inch seam allowance.
6. Next, snip a few pieces off from the border to make it easier to fold under.
7. Fold the flaps over and iron them down.
8. Sew the white fabric on under.
9. Center the symbol and upholster.
In the end, Leer created unexpected Swiss Army-inspired accents for relatively little. With just foam ($10), two $6 fold-up stools she found at Goodwill two years ago, and sturdy and stylish burlap coverings ($8), she now has two adorable fold-up camp stools. In hindsight, she would've added handles for easier transportation. "I should've stitched handles on the side of them. That would've been fabulously clever," she says. But, handles or not, we think these stools are perfect.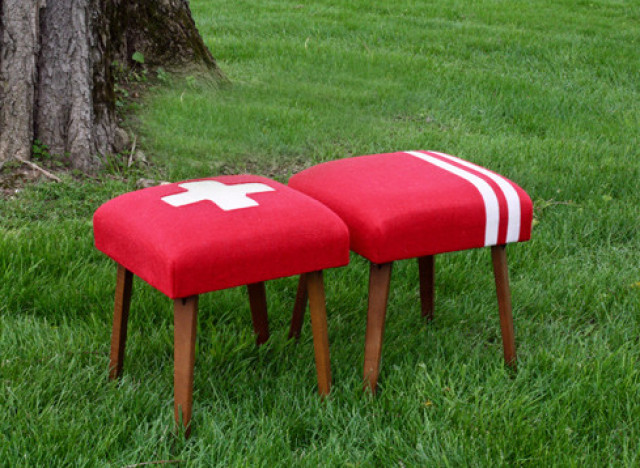 Photo by Shelly Leer of ModHomeEc
To see the full tutorial, visit ModHomeEc.
Have something to say? Be sure to check out Stylelist Home on Twitter, Facebook and Pinterest.
BEFORE YOU GO