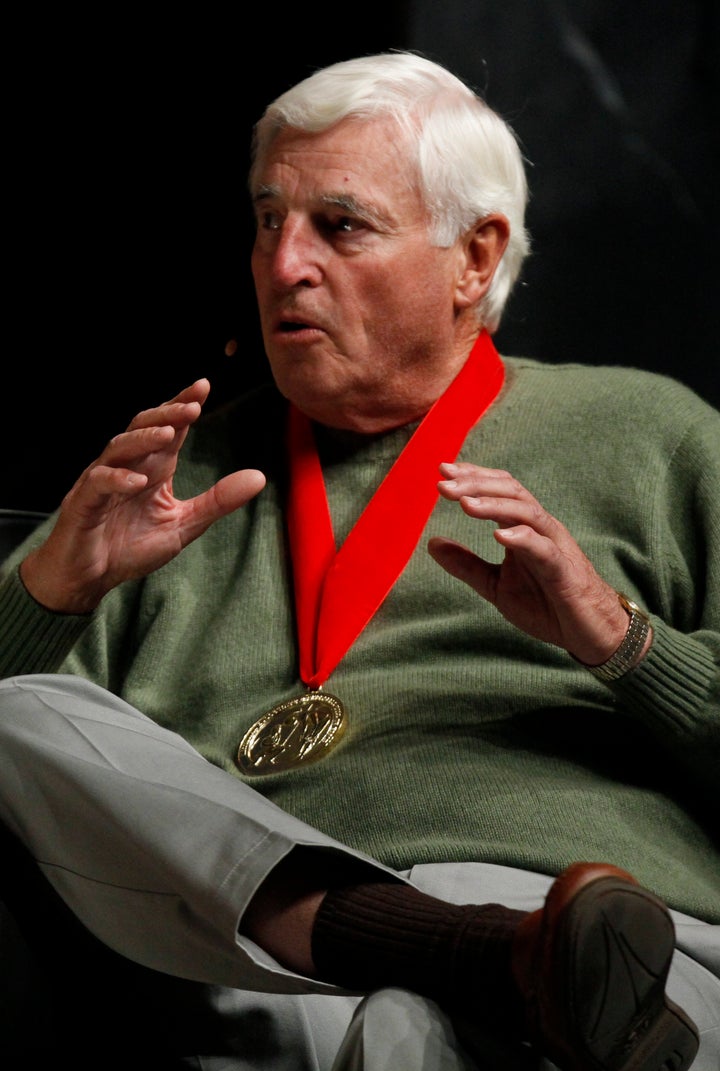 Just because basketball legend Bob Knight finally said "Kentucky" during the tail end of March Madness, that doesn't mean he won't go out of his way to bash the school, its fans and the NCAA's "one-and-done" rule that has allowed some of the teams stars to jump directly from their freshman seasons directly to the NBA.
Speaking at Carmel, Indiana's Center For the Performing Arts on Saturday, the former Hoosiers basketball coach ripped "one-and-done" players, going as far as to say that said he wouldn't pick them if he was an NBA general manager. Given the success of 2011 NBA MVP Derrick Rose and two-time NBA scoring champ Kevin Durant, who both left college after just one season, Knight has likely ensured that he will never be an NBA GM.
"I think it's a disgrace," Knight said via Josh Weinfuss of The Indianapolis Star. "If I was an NBA general manager, I would never want to take a kid 18, 19 years old, a year out of college. I'd wait until someone else worked two or three years with him to adjust him to the NBA and I'd trade a draft pick."
Later in his speech, Knight talked about the criticism he drew from referring to Kentucky as "that team from the SEC" for most of the season and too a shot at Wildcats fans.
"Kentucky managed to get irritated over that because I mentioned them as the SEC team rather than Kentucky," he said. "Well, they might not have known that Kentucky was in the SEC. I thought that was always a possibility with them."
Knight has targeted Kentucky coach John Calipari and his habit of recruiting one-and-done players for quite some time now. Last year, Knight claimed that several players on the team led by John Wall in the 2009-10 season didn't go to class throughout one whole semester.
Despite Knight's longstanding disdain for the Wildcats and early entry players, he's not the only one to speak out recently against the rule, which requires draftees to be 19 and a year out of high school.
NBA Commissioner David Stern bashed the NCAA rule while speaking to reporters in Phoenix two weeks ago. Dallas Mavericks owner Mark Cuban said on Sunday that he too believes that players are being drafted too young.
For his part, Calipari also said he'd love to see the ruled revised to force players to stay in school. After winning the 2012 NCAA championship with Kentucky, Calipari quipped that he wants to the rule changed to keep Anthony Davis and some of his teammates in Lexington for another season.