Well that's a relief. With the passing of House bill 12-1295 April 9, the playing field has finally been leveled. Or perhaps that should be the plural fields as it spans the Nuggets, Broncos, Avalanche, and now the Rockies.
The bill, signed by Hickenlooper the same day as the Rockies' home opener, creates a vanity Colorado Rockies license plate for fans to purchase and indicate their support for the team. Plates will be available for a one-time $50 fee in addition to proof of a $52.80 donation to the Colorado Rockies Baseball Club Foundation. The charity supports at-risk youth via baseball and softball programs, education and literacy programs, and drug/alcohol-abuse awareness and prevention.
Broncos fans have had access to a vanity plate since 2006; the plate requires a $30 donation to a Denver Broncos charity. Avalanche license plates and Nuggets license plates were created in 2011 and require a $45 charitable donation.
Plates will be available starting January 1. "We're blessed to live in a state with so many devoted fans," said the bill's sponsor Rep. Kevin Priola R-Henderson. "This measure channels this enthusiasm in a charitable direction."
When the Nuggets and Avalanche mascots testified before the senate in 2011, The Denver Post's Lynn Bartels proclaimed them the "Best. Witnesses. Ever." and recorded video of their stunts.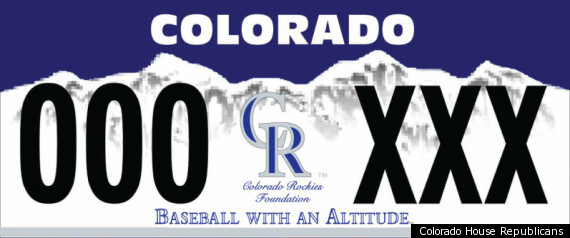 BEFORE YOU GO