Keep the birds in your backyard happy with this clever Craft Of The Day. It only takes a few steps to recycle an old plastic bottle into a hanging bird feeder that's perfect for spring. Keep reading for the how-to.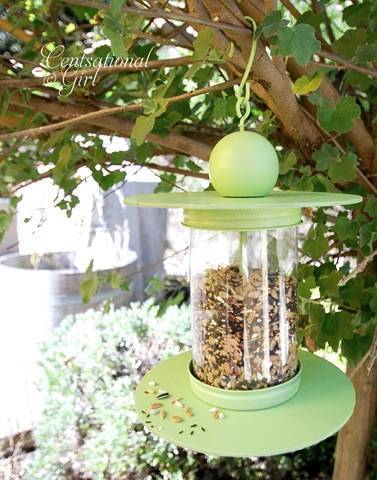 Photo by Kate of Centsational Girl
What You'll Need:
Plastic liter bottle
Two 6-inch wooden disks
One wood ball finial (from a craft store)
2 Ball jar lids
One threaded dowel rod
Two nuts
Spray paint
Eye hook
How To Make It:
1. Spray paint all of your wooden pieces.
2. Drill holes through the center of your disks, lids and finial ball that are large enough for you to put your threaded dowel rod through.
3. Use scissors to cut around the top and bottom of your bottle so that you have a plastic cylinder. Punch a hole toward the top that is large enough for seeds to come out.
4. Measure how long your threaded dowel rod needs to be (slightly longer than your bottle) and trim it.
5. To put your bird feeder together, line up the holes in your ball, disk and jar lid and screw them in place with your dowel rod.
6. Fit the jar lid over one end of your bottle. Fill the bottle with bird seed, and then close off the other end by attaching your second jar lid and disk. Make sure the hole you punched for seeds is at the bottom of the feeder.
7. Use nuts to secure the ends of your dowel rod.
8. Attach the eye hook to the finial ball and hang your feeder from a tree.
For a full tutorial, visit Centsational Girl. And, be sure to check out the other great crafts in our Craft Of The Day slideshow below.
PHOTO GALLERY
Craft Of The Day