Charline Von Heyl's works are more art events than art objects. The paintings look abstract but are not really abstractions of anything. But be careful about throwing around artsy jargon, fellow reviewers. In an interview with "BOMB", Von Heyl said: "I know, if I hear the explanation that I'm hovering between abstraction and representation one more time I'm going to go on a killing spree."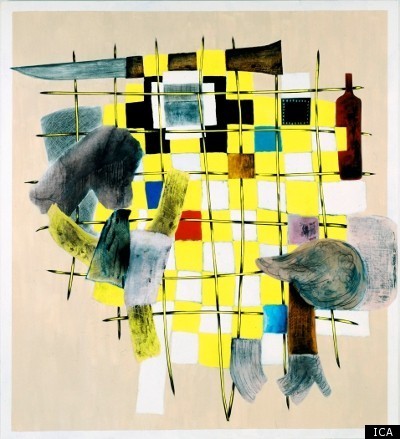 Under Von Heyl's advice, the viewer lets go of analysis guided by art historical trajectories, influences and terminology and gets right to the meat of the pieces. Each one stands alone as an individual species, enigmatic and tantalizing in its elusive nature. While even the most abstruse artworks often come handy with a helpful blurb to orient the viewer, Von Heyl's deny you that luxury. It's not surprising, then that the result is often physically disorienting. Thus each viewer enters an intimate and infuriating relationship with the work, (unless the viewer is too lazy), stumbling stupidly on an uncharted terrain leading nowhere certain. In "Frieze", the artist says: "I want to get abstraction to a point where it screams that it is something: a representation and a thing."
Von Heyl's works are wild animals, things-in-themselves, objects that look as if they point to some outside narrative or message but ultimately do not. And yet, we're drawn in all the same, becoming gluttons for punishment.
Von Heyl's work will show at the Institute of Contemporary Art in Boston until July 15. Check out some of Von Heyl's works below and let us know... are you frustrated?
PHOTO GALLERY
Charline Von Heyl
BEFORE YOU GO