Elaine Sturtevant made her controversial artistic debut in 1965 when she showed an exhibition of replicates of Andy Warhol's silkscreen floral prints only month's after their initial release (Andy had offered her the original screen to work from). In the years since, Sturtevant has continued to explore the effects of repetition on the underlying structures of art. As Bruce Hainley writes in Frieze, "Copy, replica, mimesis, simulacra, fake, digital virtuality, clone -- Sturtevant's work has been for more than 40 years a meditation on these concepts by decidedly not being any of them."
Sturtevant has created clones of works by artists such as Marcel Duchamp, Felix Gonzalez-Torres and Jasper Johns -- those whose work was already overturning the romantic notion of the artist creating something out of nothing. Her copies helped make their originals legendary, showing how modern inspiration does not come from within, but from beyond. In Sturtevant's words: "What is currently compelling is our pervasive cybernetic mode, which plunks copyright into mythology, makes origins a romantic notion, and pushes creativity outside the self."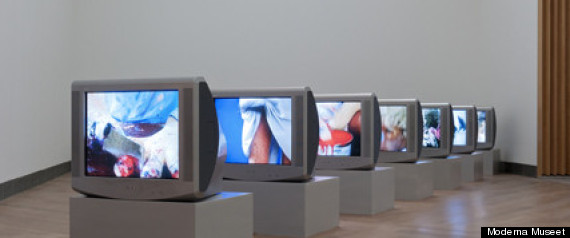 We thought we'd reach out to Sturtevant with a few questions about her upcoming exhibition "Image Over Image" at Moderna Museet in Sweden. Perhaps it shouldn't be surprising that her responses were curt, to put it mildly. Although you may not get much insight into Sturtevant's thoughts or process through her answers, you do get a pretty great view of how a seasoned contemporary artist handles herself. Normally we do not ascribe to the moody artist stereotype but sometimes it just presents itself in the inbox, and there's nothing you can do but laugh.
HP: You first began replicating works in the 60s, years before the internet's image onslaught. Did you have any idea the extent to which repetition of images would take over in the future? How has your work evolved as a result of this phenomenon?
ES: Dumb question.
HP: Do you see authenticity as something that used to exist but does not anymore, a fiction that never was, or something else entirely?
ES: Authenticity currently is nonexistent due to the imposition of cybernetics.
HP: Does your work directly interact with the written theory that was emerging at the same time? Who were you reading and why?
ES: At the time of the initial work they were no references nor writers. It was only much later when Deleuze and Foucault were translated that I encountered them and found this conceptual thinking a strong base for my work.
HP: You seem concerned by questions of how gender plays into the meanings of your work. Why is this the case?
ES: Who says I'm concerned by questions of gender? Absolutely no way. Gender is not only a method of avoiding crucial elements of the work but to bring the work down to the lowest common denominator.
What do you think, readers? What questions would you have asked Sturtevant instead? Here are some of her works to set your minds in motion:
"Sturtevant: Image Over Image" will show until August 26 at Moderna Museet in Sweden.
BEFORE YOU GO