Call it the Instagram economy. Businesses are raking in big bucks without hiring very many employees.
Facebook announced on Monday that it was spending $1 billion to buy the photo-sharing service Instagram, which makes no money and has only 13 employees. But thanks to the acquisition, the CEO of Instagram stands to become $400 million richer, according to Wired.
Meanwhile, 12.7 million people are still unemployed and looking for work, partly because businesses like Instagram are getting by with fewer workers. The average number of workers per office fell 10 percent between 2000 and 2011 to an average of 15.7, according to the Labor Department. (h/t The New York Times.)
One reason for the shrinking phenomenon: Newer firms tend to be smaller. Businesses that were three years old or younger in 2007 employed fewer than 10 people on average, while establishments that were 7 or more years old employed 22 workers on average, according to the Labor Department. In 2008, 3.62 million businesses employed 1 to 4 workers. That's 196 times more than the number of businesses with 500 employees or more, according to the Census Bureau.
Perhaps even more alarming, a growing number of startup founders are only employing themselves. In fact, 78 percent of all businesses are "nonemployer firms," or firms without employees, according to the Census Bureau. In addition, the share of entrepreneurs founding firms that do employ other workers has continued to fall, according to the Kauffman Index of Entrepreneurial Activity.
But even big companies are getting by with less. Major corporations are squeezing more productivity out of their workers than before the recession. S&P 500 companies made an average $420,000 in revenue per employee last year: 11 percent more than in 2007, according to a Wall Street Journal analysis. The median wage in the U.S., meanwhile, was just $26,364 per year in 2010: its lowest level since 1999.
Check out the shrinking size of establishments and firms below: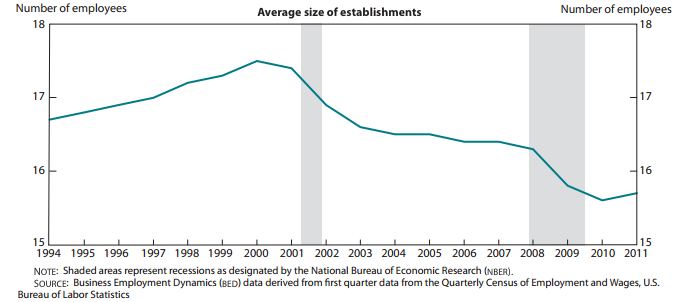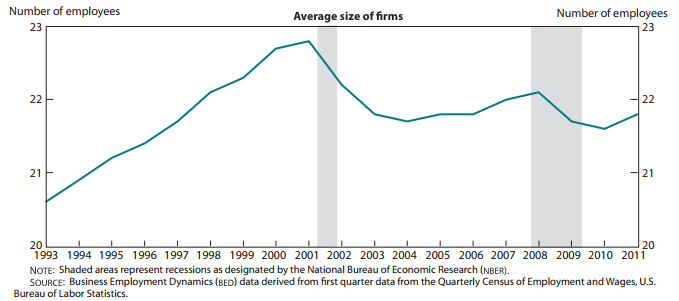 BEFORE YOU GO