Florida Governor Rick Scott's Facebook managers posted an image containing a doctored Miami Herald headline Tuesday, prompting the paper's managing editor to demand it be removed.
The post, since deleted from the Governor's social media page, swapped in the headline "New Law Helps Put Floridians Back To Work" in place of the paper's original headline from 2007, "Murders Highlight Rise In Crime In Guatemala" -- making it appear an editorial from the governor had run above the fold on the Herald's front page.
A comparison of the two front pages: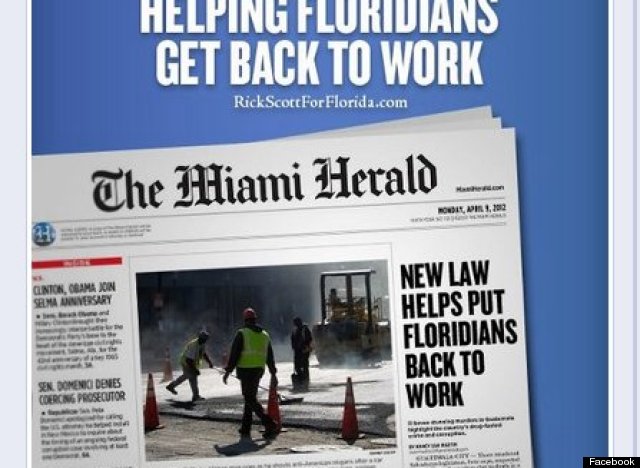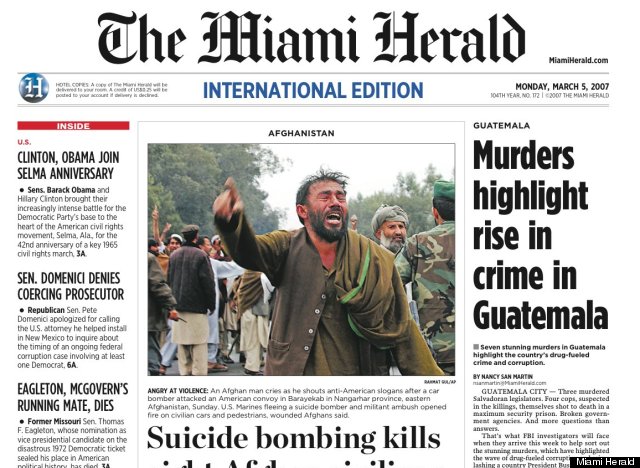 "Check out the editorial in yesterday's Miami Herald," exhorted the post. But like an extra finger or flap of skin left on celebrities who've been photoshopped, the doctored image contained a graphic gaffe: it included the location line from the original story, Guatemala City.
After Random Pixels blogger Bill Cooke alerted the Herald of the front page tweaking, managing editor Rick Hirsch contacted the Republican Party of Florida and told them to take down the false image.
"The posting of a fraudulent front page of The Miami Herald is unacceptable,'' Hirsch said. "Not only is it a fraud on the public, but it is trademark infringement for use of our masthead in a fake edition, and copyright infringement for those portions of the front page that were not fabricated."
The Herald's Naked Politics blog learned that the RPOF hires a third party to run its social media -- Harris Media, a company in Texas, despite Scott's alleged commitment to increasing jobs in Florida, where the unemployment rate hovers at one of the highest in the nation.
This isn't the first questionable decision regarding Scott's Facebook page. Back in February, Scott and his staff gave their Facebook fans the prompt: "If you could use one word to describe Florida's 2012 legislative session, it would be ___________. COMMENT below!"
Although nearly 80,000 people "like" the Florida governor on Facebook, apparently most of them are passionate critics, not fans. The comments left for the fill-in-the-blank were mainly critical, ranging from "clueless" to "corrupt."
Click below for other Photoshop fails:
BEFORE YOU GO