WASHINGTON -- Eleven months before the 9/11 attacks, suicide bombers sent by Osama bin Laden blew a huge hole in a U.S. Navy destroyer that had stopped to refuel in the Yemeni port of Aden. Seventeen sailors died and 39 were wounded on the USS Cole on Oct. 12, 2000. In hindsight, it was a harbinger of a far deadlier day to come.
But unlike the Sept. 11 attacks on the U.S. mainland, the Cole has been mostly forgotten, an event, according to the ship's commander, that "The Navy was perfectly content to allow ... to drift into obscurity."
Now, as the alleged mastermind behind the Cole attack faces a military tribunal in Guantanamo Bay, Cuba, retired Navy Cmdr. Kirk Lippold is telling his story in a new book, "Front Burner: Al Qaeda's Attack on the USS Cole."
"The attack on USS Cole has always been viewed as a footnote in the shadow of 9/11," Lippold told The Huffington Post in an interview. "It's the clearest example of disconnect in national security policy between administrations."
Coming in the final weeks of the 2000 presidential election, the attack and the tepid response to it -- the 9/11 Commission would later conclude Bin Laden was emboldened by the Cole episode to carry out the attacks on New York and Washington -- fell through the cracks, said Lippold, the Cole's commander that day. The outgoing Clinton administration, he says, rushed its investigation so as to leave "nothing on the table that could be used against them politically" while the incoming Bush White House "had the attitude, 'We're forward-looking, not backward-acting" and did little to follow through.
"There was an act of war and there was no reaction," Lippold recalled. "Politics was driving national security policy."
Politics also drove Lippold out of the Navy. Although he was praised for leading a heroic effort to save his ship from sinking -- the Cole was eventually repaired and recommissioned in April 2002 -- and Navy leaders cleared him of wrongdoing, Lippold found his career stymied. Senate Armed Services Chairman John Warner (R-Va.) blocked his promotion to captain. A former secretary of the Navy, Warner dismissed investigations that exonerated the commander and made clear that he held Lippold responsible for failing to take precautions that might have prevented the attack.
Lippold retired from the Navy in 2007 after serving for 26 years.
"I do not wish to minimize or excuse my own failure as captain to prevent this tragedy," he writes, adding that he considered leaving the Navy before "the highest leaders of my service" talked him into staying.
"I will always live with the fact that my ship was attacked ... on my watch," he said when asked to assess the blame. "Do I feel guilty? No. Am I accountable for what happened to my ship? Absolutely. Am I responsible for what happened to my ship? No. Bin Laden is the one who is responsible for that attack."
Lippold writes that intelligence and military failures contributed to the tragedy, as well as an inability to recognize the warning signs of the 1998 bombings of two U.S. embassies in East Africa.
"We were put in the wrong place at the wrong time with inadequate training and inadequate intelligence," he said.
Ironically, Lippold was at CIA headquarters in Langley, Va., on the morning of Sept. 11, 2001, being briefed on bin Laden and al Qaeda's operations in Yemen. He writes that he told his CIA briefer it was "going to take a seminal event ... before Americans realize that we're at war with this guy." Minutes later, the first plane crashed into New York's World Trade Center.
The 9/11 attack would usher in a new and controversial phase in Lippold's career. As a member of the Joint Chiefs of Staff Directorate for Strategic Plans and Policy at the Pentagon, he helped draft detainee policies for captured Taliban and al Qaeda fighters that led to the opening of the Guantanamo prison where the Cole attack's coordinator, Abd al-Rahim al-Nashiri, is in pre-trial hearings that will include testimony on how he was waterboarded during a CIA interrogation.
That part of the story is consigned to a back burner in "Front Burner." Glanced over in the book's epilogue, Lippold notes President Barack Obama's executive orders to close Guantanamo and end military tribunals -- actions the administration has yet to make good on -- and doesn't approve.
"We are setting ourselves up for failure again because this administration is incredibly uncomfortable with detaining terrorists and exploiting them to gain intelligence necessary to safeguard us," said Lippold, who has criticized Obama's detainee policies in the past. He said controversial drone strikes have "proved exceptionally effective but the downside is you're killing everyone who has the intelligence necessary to truly eliminate the threat" at home.
Lippold, a Republican with Tea Party leanings on economic issues, took his critique of Obama's policies on the campaign trail last year in a special election for Congress in his hometown of Carson City, Nev. He lost in the GOP primary and says he won't rule out another run for elective office.
For now, though, he plans to promote his book, which includes new, minute-by-minute details rarely if ever reported before: the bucket brigade that prevented the ship from sinking after the last generator failed; the playing of the "Star Spangled Banner" echoing across the harbor as the ship limped out of Aden; its return to Norfolk, Va., and the painful process of recovering the remains of sailors trapped inside the wrecked hull. That, and the frantic efforts to save the wounded, were the toughest chapters to write, Lippold said.
Indeed, Lippold said he started to write the book in 2003 but "pushed away from the table" because it was too soon. "It took 10 years before I could reach a point where I could sit down at a keyboard," he said, adding that even then, "To tell the story is to relive it -- and it is a very difficult, emotionally very difficult to do."
And, judging from the red dog tag lasered with the names of his 17 fallen sailors that he wears beneath his shirt with two government-issued ones, it still is.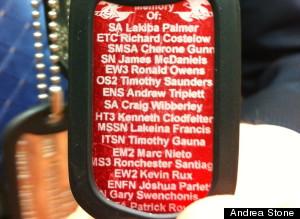 BEFORE YOU GO