Got a success story of your own? Send it to us at success.stories@huffingtonpost.com and you could be featured on the site!
Name: Heather Stewart
Age: 27
Height: 5'6"
Before Weight: 205 pounds
How I Gained It: I was always a bit on the chubby side. However, that did not make the shock any less devastating when I weighed myself for the first time in over a year. My first year of college was pure freedom. With this freedom came bills and school projects and homework and essays and new social situations. I quickly became overwhelmed and slipped into a state of depression. I was diagnosed with generalized anxiety disorder (GAD). That summer I went back home, where a lot of my stress was alleviated and slowly, my health improved. My second year, however, I switched my major and began eating more and more unhealthily. Cheese fries, ramen noodles and 99-cent pizza slices were staples in my diet.
The first time I saw my weight was at the doctor's office. I normally made it a point to not look at the scale when they weighed me. This day she wrote my weight down on a piece of paper and left the room. My eyes glazed over the paper and caught a glimpse of the number: 188 pounds. I was crushed and embarrassed. But I didn't do anything about it. I didn't get on another scale for over a year. I guess I thought that if I didn't know or see what the scale had to tell me, then it wouldn't be a problem, and it could be ignored.
Breaking Point: My third year of college, my life changed: I met my husband. He was nice, looked at me like I was beautiful and more importantly cooked for me on our first date and did the dishes. Did I fail to mention that he was a runner and a vegetarian? His views on food and health were foreign to me and I tried to adopt them. We had been dating for six months when he graduated and moved to Florida. We decided to make a long distance relationship work. A week after he left, I started making plans for my visit. My trip would fall the week of July 4th, and that meant the beach, shorts and swimming suits. I didn't own a pair of shorts and felt awkward in a bathing suit. That week, I bought a scale and bravely stepped up on it: 205 pounds. I could not believe that I had put on almost 20 pounds in the last year and was now over the 200-pound marker. This time I took action. I knew I had to be proactive for my life and my health. I had found out the hard way that ignoring the problem would not solve it.
How I Lost It: I hit the gym and started the Slim Fast plan. When winter hit and the snow was too bad to make it to the gym, I bought The Biggest Loser DVDs and worked out with them twice a day. I did one in the morning and one before dinner, and I lost my first 30 pounds surprisingly fast. On my second trip down to Florida for Thanksgiving, my husband proposed to me on our one-year anniversary. It was at sunrise on the beach. We set a wedding date and I had less than a year to lose more weight. Over the next 9 months before the wedding, I lost 20 more pounds. I ran occasionally on the treadmill but had yet to venture outside. After the wedding, I stopped working out as much and settled into a rhythm of life.
In our first year and a half of marriage, I put back on five pounds. My husband bought me an iPod and I started running outside. I slowly built up to being able to run three miles a day. I also signed up for loseit.com and monitored my calorie intake and exercises easily. Since then, I have lost 20 pounds more. I ran in two 5Ks and have another planned for next week. Even though I still sometimes struggle with depression and GAD, I have come to realize that my worst bouts come at times when I am not eating right or have slacked on my running. I have learned that there is a connection between how I take care of my body and how it affects me, both physically and mentally. Thanks to my husband, I now eat healthy and I am proud of the proactive steps that I have taken to reclaim my body and mind since my weight loss journey began.
After Weight: 140 pounds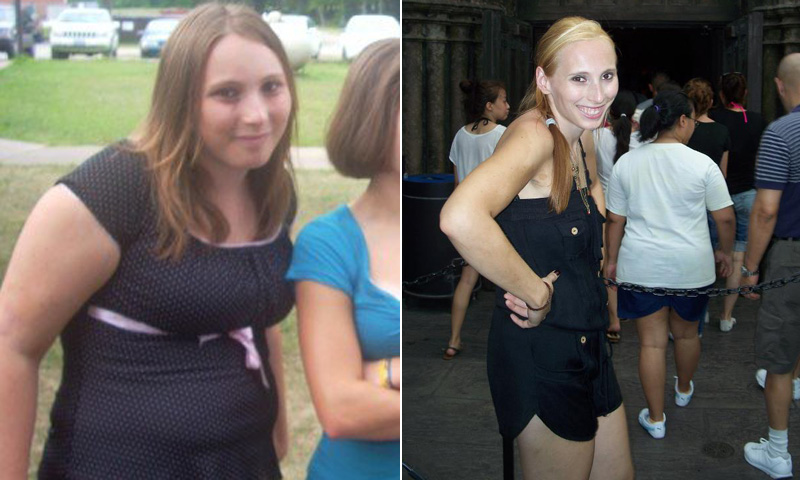 Check out more of our inspiring weight loss stories below:
PHOTO GALLERY
Weight Loss Success Stories
For more on weight loss, click here.