Chef Ludo is at it again!
The foie-loving chef is hosting another multi-course meal in celebration of the soon-to-be-banned meat treat next Tuesday. In true LudoBites style, it'll be available for one night only, and getting a reservation will probably feel as impossible as trying to win the Mega Millions jackpot.
But at least you'll have the same chance as everyone else. Starting Friday, Apr. 13 at 10 a.m., potential diners can enter their names in a LudoBites lotto to win one of 25 available tables. The five-course dinner costs $105 a pop, which is a steal considering how much the dinners will go for once foie is on the black market in California (we kid!).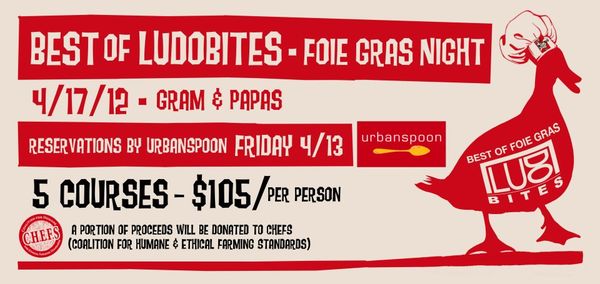 Like Lefebvre's foie gras dinners at Animal and Casa Pulido, there are sure to be a few animal rights protesters picketing the entrance. If you're one of the lucky few diners next Tuesday, just tell them that a portion of the dinner's proceeds are going straight to CHEFS - the Coalition for Humane and Ethical Farming Standards.
Starting July 1, all sales of foie gras will be banned in California, so it's understandable that Francophile chefs like Lefebvre and Josiah Citrin of Melisse are going all out to celebrate the fatty foodstuff until then. While Lefebvre only seems to be doing one-night pop-ups, Melisse is currently serving a five-course foie menu every night until the ban.
After you're done making reservations at LudoBites or Melisse, take a look at these eight foods that deserve a more cruel reputation than foie gras.
PHOTO GALLERY
Ban Before Foie Gras
BEFORE YOU GO