For all the popularity that Apple products have gained over the years, one piece of equipment has left even sanctimonious fans complaining: the company's standard in-ear headphones that are packaged with iPods, iPhones and more.
But Apple fans may get a better set of earphones with future purchases. Apple Insider reports, the company has filed an application to patent earphones constructed from components bonded together by a process called "ultrasonic welding," which would create products with "a seamless unibody structure."
According to the patent application, the aesthetically-improved buds would be achieved by combining the separate pieces together using a series of "weld rings" than can then be sanded down and polished to create a body structure that appears as though it's one piece.
The application provided illustrations of what the buds may potentially look like: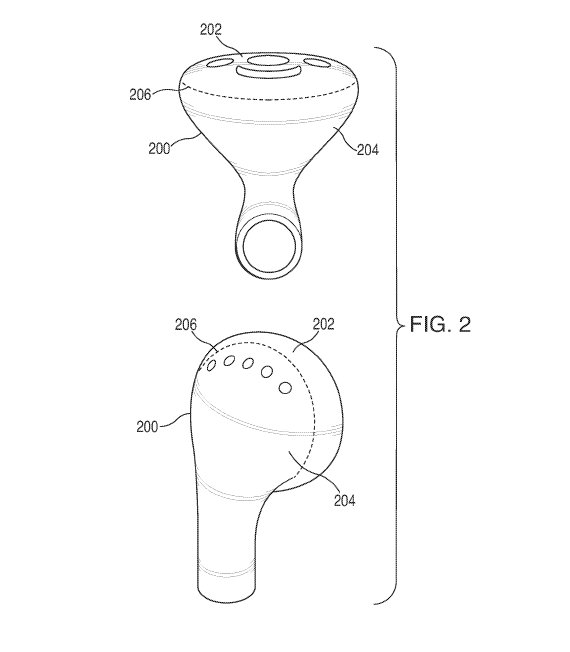 In the diagram, the dashed lines represent the seams between two separate components, labeled as 202 and 204; these seams would be covered up by the polished weld rings.
The weld ring patent doesn't mention any improvements to acoustic quality, but Apple has also begun exploring options for improving sound quality as well, according to Apple Insider.
The company also filed an application this week to patent a new process for making the "cap" or "grill" of the headphone -- the part with all the tiny holes -- in a way that would eliminate "remnants" of the manufacturing process and therefore create a clearer sound and smoother appearance.
That process, called "deburring," would be achieved by coating the cap with an abrasive material and then vibrating a special tool across the surface so that the material conforms to the curves of the cap.
CNET reported that though the "ultrasonic welding" patent application was filed this week, Apple has focused since 2008 on creating structures that would be "thinner, lighter, and stronger than some traditional, multi-piece designs."
And if the rumors are true, Apple may be planning to use unibody welding procedures to create the iPhone 5, according to CNET.
Take a look at the slideshow (below) to see some of the coolest patents Apple ever applied for.