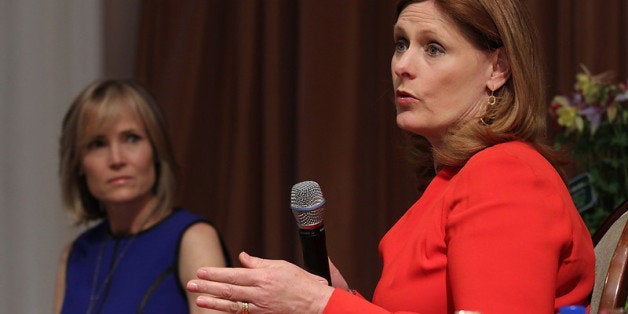 LOS ANGELES -- The first time she spoke in public, she was so nervous she passed out. "I put my head in my hands and tumbled onto the floor," said Sarah Brown, wife of former British Prime Minister Gordon Brown.
Brown was addressing a crowd at the Women's Guild Cedars-Sinai annual luncheon at the Beverly Hills Hotel Thursday, where she accepted the annual "Woman of the 21 Century" award for dedication to women's health.
In a Q&A with Huffington Post senior editor Willow Bay, Brown spoke candidly to the luncheon audience about being the "WPM" -- a term she learned after taking on the role meant "Wife of Prime Minister."
"There's no role. There's no title. There's no formal office," said Brown, whose husband was prime minister from 2007 to 2010. "You can do as much as or as little as you like. You're not elected."
Brown said her "job literally [was] accompanying on quite wonderful opportunities to go on fabulous day visits … traveling all around the globe." She added, "It's a quite passive role."
"That said, there's this wonderful opportunity that exists" in the role, she said, if she would take a risk for something she believed in.
The former WPM explained why women's health, and particularly mothers' health, became her cause. At a panel discussion on infant mortality, "I realized that if you weren't saving the lives of their mothers, then you're not really going to be helping their children," she said.
One of the millennium development goals that United Nation countries have agreed to achieve by 2015 is to reduce the number of mothers dying during childbirth. When Brown took up the issue in 2007, "The number hadn't changed in decades. Nothing was shifted," she said.
"I talked to the other guys on the policy team and said, 'If this is something I want to make a bit of noise about, can I do this?' … I was sticking my head out because I'm not an elected person or expert at the table."
One place where Brown has certainly stuck her head out is on Twitter, where she now has over 1 million followers. One reason why Brown is amenable to Twitter is that she doesn't like to sit down with journalists and have them "print their version of what I said."
"There is an obligation of interacting on behalf of the general public to report back what you're doing and be transparent about it, but I felt I wanted my own voice," she explained.
Twitter works well for her women's health effort because there are already a lot of people working toward the same goals. Twitter allows her to "amplify" that work and make "connections and interactions with other people who are doing the same thing … and engage so it wasn't just my voice," she explained.
Indeed, @SarahBrownUK retweets a variety of nonprofits' tweets (including small groups with few followers) and interacts with everyone from grassroots activists to Nicolas Kristof.
She added, "By starting that dialogue … you can move things around very quickly. And very quickly I realized that my own Twitter would be reaching a greater number of people than any single newspaper … interview."
The Women's Guild raises money for women's health care and research at Cedars-Sinai Hospital in Los Angeles.
Click through photos of Sarah Brown, actors and other notables at the event: