Warner Bros. has released a plethora of new photos from one of the most anticipated films of the summer, "The Dark Knight Rises." One of these photos is of Lucius Fox (Morgan Freeman) looking solemn as he delivers some apparently shocking news to Bruce Wayne (Christian Bale), who is reading a newspaper. I must know: What is Lucius saying to Bruce? We won't know for sure until July but, until then, that doesn't mean we can't guess.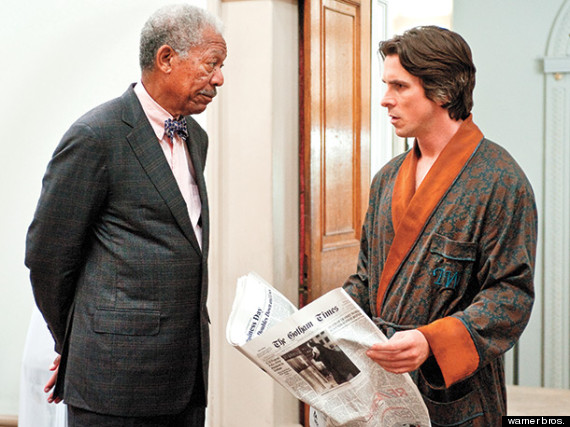 If you think that you know what Lucius is saying to Bruce, let us know in the comments.
1. "I'm afraid it's true. 'Newsies' is on Broadway."
2. "According to the Style section, yes, you are sporting a mullet."
3. "Unfortunately, your application to The Avengers was denied."
4. "I'm afraid that Arnold Schwarzenegger really hated 'Terminator: Salvation.'"
5. "Sadly, there's little-to-no mention of your efforts to destroy that North Korean missile."
6. "I'd like to summarize Bane's op-ed for you, but his literary prose is just as unintelligible as his voice."
7. "Yep, the Red Sox lost again."
8. "I warned you not to read Rex Reed's review of 'The Cabin in the Woods.'"
9. "Bruce, I think it's time to just accept the fact that Ziggy is never going to come out on top."
10. "Val Kilmer is on the phone."
Mike Ryan is senior entertainment writer for The Huffington Post. He has written for Wired Magazine, VanityFair.com and GQ.com. He likes Star Wars a lot. You can contact Mike Ryan directly on Twitter
PHOTOS: "The Dark Knight Rises"
PHOTO GALLERY
Stills From 'The Dark Knight Rises'
BEFORE YOU GO