Sometimes, sending a quick email just doesn't cut it -- especially when it comes to saying thank you. Instead, show your appreciation with this Craft Of The Day. A hand-embroidered card is perfect for sending a sweet note that lets someone know you're thinking about them. While this project will definitely require a little bit of time and patience, the end result will feel much more thoughtful than a store-bought card. Keep reading for the how-to.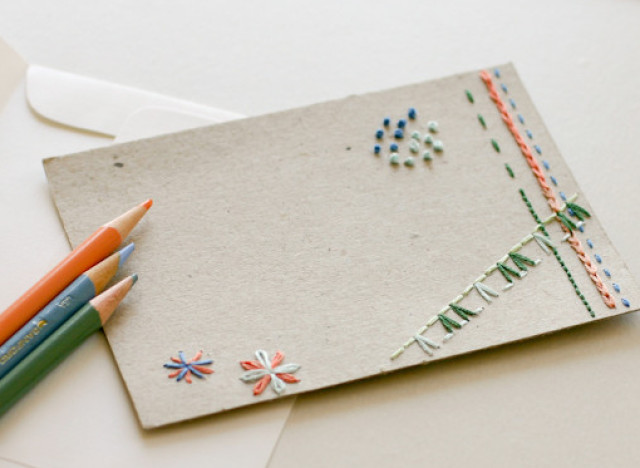 Photo by Anne Weil of Flax & Twine
What You'll Need:
Cardstock or paperboard
Embroidery thread
Embroidery needle
Sewing machine
Scissors
How To Make It:
1. Cut your cardstock or paperboard into the size you want your note card to be.
2. Without using thread, run each note card under the sewing machine to poke holes where you want your stitches to go. Use your embroidery needle to make more elaborate designs like flowers or pinwheels.
3. Thread your needle with embroidery floss and, using the holes you sewed as a guide, begin to hand-stitch your card.
4. When you're done with a color, tie it off in a small knot at the back of your card and trim excess thread.
5. Write a quick, personalized message to tell someone thank you!
For a full tutorial, visit Flax & Twine. And, be sure to check out the other great crafts in our Craft Of The Day slideshow below.
PHOTO GALLERY
Craft Of The Day