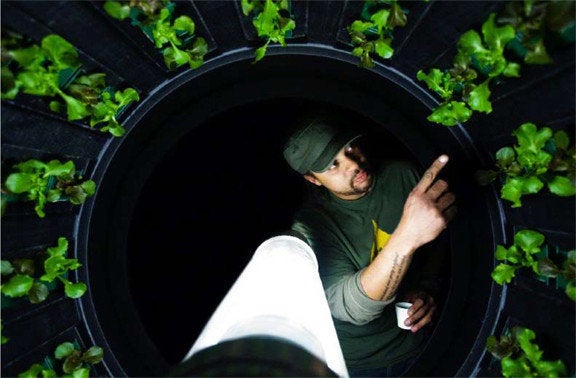 This isn't just a story about teaching a man (or woman) how to fish. It's more about teaching him or her how to grow their own eco-system.
It's a story about re-use and waste, sustainability and design. It's about plants, food security, farming, community, entrepreneurship and planning.
This is a story about space and what we can do with it.
Model D's second installment of stories about visionary leadership -- the first was Francis Grunow's Q&A with Colombian urbanist-politician-rapid bus transit advocate Enrique Penalosa -- and its impact on cities continues today with a visit to Milwaukee and Chicago, then of course, back up to Detroit.
This week's visionary leader is Emmanuel Pratt, who, despite not being fond of official titles, has several of them. He's the executive director of the Sweet Water Foundation, whose mission, in his words, is "to educate for resilient communities through sustainable urban agriculture practices, but we do it through intergenerational and interdisciplinary educational programming for sustainability."
Sweet Water Foundation is the education arm of Sweet Water Organics, a for-profit, aquaponic, fish and vegetable farm that's received worldwide recognition since forming in 2008.
"When you come into Sweet Water Academy," says Pratt, "we call it the farm and the academy, we're gonna have a philosophical debate, but you're probably gonna be doing it while you have a tool in your hand and you're doing something."
Sweet Water Organics and Sweet Water Foundation sit side-by-side, in a 10,000+ square-foot factory that formerly assembled mining cranes in Milwaukee's Bay View neighborhood.
100 miles south, At Chicago State University, Pratt is a Professor of Urban Planning and the Director of the recently birthed, Aquaponics Center, housed in an old shoe factory on Chicago's South Side.
Pratt has worked extensively with Will Allen, the founder of Milwaukee's Growing Power, arguably the most innovative urban farming projects in the world. And as if he's got time to kill, he's a doctoral candidate in Urban Planning at Columbia University.
Our condensed conversation follows:
You're a Ph.D student in Urban Planning. What has your experience at Sweet Water taught you about the pitfalls and potential of planning?
My experiences at Sweet Water embody what planning should be. We have a vacant industrial warehouse that had been vacant for 20 plus years as a by-product of deindustrialization and globalization, simultaneously. And it took the will and whimsy of some roofers and a team of people who were dedicated and had the thought and vision to see that that building absolutely had life.
There's all these industrial buildings that are symbolic of the history that was rich in Milwaukee, and this bipolarity where you have this high level of unemployment, but highly skilled people that just kind of got left behind in this transition period in the past 20 years.
Sweet Water has embodied that there is a possibility for something other than the traditional, normal, economic approach. It is a social, hybrid, entrepreneurial endeavor. You're in a building and you're growing fish and plants and vegetables, organically. But the by-product is people. You're growing community.
Will Allen, the man behind Growing Power has become the godfather of urban farming, maybe especially since winning the MacArthur Genius grant. What kind of ripple effect has his leadership had on the community?
Will Allen, being that (former) professional basketball player, has now officially turned into the coach. He has shown people the plays and the strategies. He's shown people key moves. You can do a crossover here by doing a compost this way, but you can flip it by doing a reverse layup by doing perma-composting. If you really want to add that three-point play, throw in the aquaponics for a strategy for redevelopment.
In Detroit, as new projects are constantly sprouting up in all sorts of places, there's been a shift in how we think about leadership and where it comes from. Describe the kind of leadership that excites you at this time and that you're seeing in Chicago, Milwaukee and Detroit.
There is a school in Chicago that we've been working with, the Community Christian Alternative Academy. It's got former high school dropouts and the executive director and principal of this school, Dr. Sampson, had a vision.
We connected her to the aquaponics piece. She came and toured Chicago State, she toured Sweet Water. She brought it back to her school. We helped her get it going in the cafeteria at the school. The kids helped in the construction. Five teachers get in the mix. The janitorial crew who have skills and trades got in the mix. We got them going with two small, 55-gallon systems with perch and lettuce and basil. They took it over.
We showed them the basics. They took it and ran with it. Four months later they've got four functional aquaponic systems at that school. They've got an after school club. They've integrated it into the curriculum. They own it. She's now using that as a way to teach this whole agriculture, science, transformative, social entrepreneurship piece that she's turning the whole school around on.
I'm gonna quote an article I recently read about Milwaukee. In describing you, the author writes, "His study of struggling urban communities world-wide gives him a panoramic view of the challenging issues that city-dwellers face every day while attempting to forge a life and create community."
From the 1900s to the present, in a short span of a hundred years, there have not been a lot of voices at the table, culturally, race, class, and it has been about a particular approach towards the use of land for the optimal, mass extraction of money and capital out of that land. Never has particularly included natural capital or human capital in that equation for what the city is. Only in the past 20 years, have people actually had that conversation.
Now, Detroit represents a whole other kind of opportunity, challenge and possibility. And I think that's why we're all taking heed to Mother Grace (Lee Boggs) and folks from Detroit's guidance with this, because it is the opportunity to rebuild the American Dream. And recontextualize what it means to have an American Dream. Maybe it's not a house with 2.5 kids. Maybe it's something that's much greater than that.
So, let's dream a little bit here. What's your American Dream?
I don't really know what it is, but it's rethinking the value of land in a way that the space becomes an actual contribution toward society. It's just ironic that a place that can be vacant for 20, 30 years, that's thought of having no life whatsoever, is producing some of the most amazing life that will affect generations.
Cities are starting to wake up to this reality.
My American Dream at this moment, right now, is how do I play my role to help re-imagine what the future will be with my family, with education and my schools, bringing some of the potentially lost history and value from some of our seniors and elders that have an amount of wisdom they can share with us, and now we can take that and share it with our kids.
Epilogue: In Detroit, a number of visionary individuals and organizations are also exploring the possibility in aquaponics.
In Brightmoor, the folks at Eden Urban Farms are teaming up with the nonprofit, City Mission, to install a system in CM's headquarters on Schoolcraft Road. Edwin Dowell from Eden Urban Farms expects to be harvesting by the end of 2012 and says they're looking to sell the fish to local restaurants and distribute to neighbors.
As part of his RecoveryPark project, Gary Wozniak is in the final stages of acquiring a former paper manufacturing plant, to house an aquaculture farm (aquaculture, unlike aquaponics, does not involve growing vegetables). Wozniak has a goal of harvesting tilapia by the summer of 2013.
Zak Rosen is an independent radio producer and reporter. He was most recently staff producer on State of the Re:Union, a public radio documentary show co-distributed by NPR and PRX. Prior to that, Zak produced The Craig Fahle Show, WDET's daily local affairs program. Rosen is on the steering committee of Detroit: City of Hope. This is his first piece for Model D.
BEFORE YOU GO