A number of Gmail users are finding error messages this afternoon, as the popular email service is suffering some rare downtime.
UPDATE: Google says the issue has been resolved:
"The problem with Google Mail should be resolved. We apologize for the inconvenience and thank you for your patience and continued support. Please rest assured that system reliability is a top priority at Google, and we are making continuous improvements to make our systems better."
EARLIER:
Google acknowledges the problem and says it is "working on it." It also released a statement that the outage is affecting less than 2 percent of its users worldwide:
Thanks everyone for the reports of 500 errors, we're working on it: goo.gl/GSxQt

— Gmail (@gmail) April 17, 2012
The Google's App Status Dashboard shows a half-circle for "Google Mail," signifying a partial service disruption. Hundreds of tweets are also saying that Gmail is down. (Scroll down for Twitter reactions.)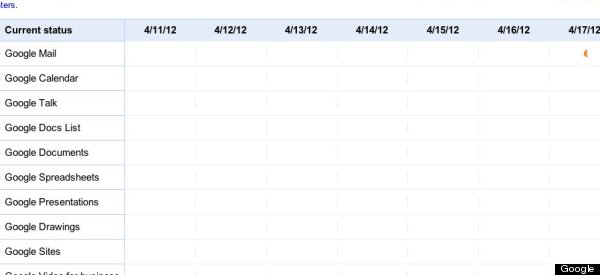 The outage began around 12:30 p.m. ET, BNO News reports, when users began seeing the message: "We're sorry, but your Gmail account is temporarily unavailable."
Mashable asked Google+ users if they were experiencing problems, and the response was mixed. According to Mashable reporter Alex Fitzpatrick, "about 50% of respondents" say Gmail is down.
Google experienced a few email outages this past fall - in November and September.
Are you having problems accessing Gmail? Let us know in the comments or tweet us at @HuffPostTech.
BEFORE YOU GO