Another day brings two more dueling national polls on the presidential election. A new survey by the Pew Research Center, conducted April 4 to 15, shows President Barack Obama leading Mitt Romney by just four percentage points (49 to 45 percent). Pew Research reports that Obama's lead "has narrowed since last month, when he had a 12-point advantage, though it is comparable to leads he held earlier this year."
In contrast, Tuesday's update of the Gallup Daily tracking poll finds Romney ahead by five points (48 to 43 percent).
The common thread among these two surveys and others released in recent days is a slight upward trend for Romney and a modest decline for Obama since March. Those changes are apparent in the latest update of the HuffPost Pollster Obama-Romney chart, based on all public polls.
The latest Gallup update is Romney's single best result in recent days. But random variation is inherent in most polling, and some divergence beyond the margin of error is typical for this early phase of the presidential race. The surveys from the last week reflect the two polls released Tuesday in finding a range of variation.
The polls have been more consistent, however, in their breakdown of the results by political party. Four recent polls -- by Pew Research, Gallup Daily (Monday's release), CNN/ORC International and Fox News -- all show both Obama and Romney receiving an average of 88 to 90 percent support from members of their own parties.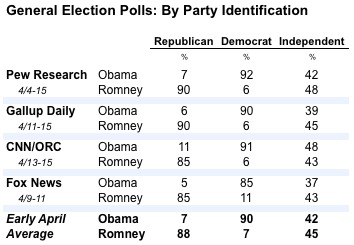 As George Washington University political scientist John Sides points out, these results demonstrate that the two party bases are now "basically unified." As Sides puts it, the arguments that "Obama was going to lose the support of all those Democrats dissatisfied with his weak-kneed compromises" or that "'Anybody but Romney' was 75% of the GOP" have not panned out.
While tracking polls will continue to produce ups and downs, the underlying structure of the race appears to be in place. The Obama-Romney contest is close and likely to remain that way for the foreseeable future.
BEFORE YOU GO