Today, Rachel Zoe is a power stylist, celebrity confidante, mom -- but her life wasn't always so rosy, she claims.
In a new interview with Los Angeles Confidential magazine, Zoe opens up about how her high school life involved way less chilling in St. Barts with Ryan Seacrest and a lot more, well, normal teenage drama:
"Girls, to me, growing up were very, very petty and didn't want me to succeed and didn't want the best for me," she says, adding that she spent most of her time with her "bad boy" boyfriend.
Zoe, now 41, has bounced back from the naysayers of her youth, amassing a flourishing styling business, nurturing a lifestyle brand and a ready-to-wear line, and, she says, hoping to launch a production company. She's also mom to impossibly cute (and stylish, obviously) baby Skyler.
With all those hats to wear (stylishly), Zoe MUST be pressed for time. So, has she been watching "It's A Brad, Brad World," the new reality show spinoff based on her rumored rival, Brad Goreski?
"No, no," she says with an arch chuckle. "I don't think I can watch that."
Ouch. But we're guessing Brad, who once said that "a voice" told him to move on from Zoe's show, feels similarly.
Click over to LA Confidential to read more tidbits from Zoe's interview, including her take on that 2006 diet pill tabloid mess.
But first, check out the cover below, and watch a sneak peek of Rachel's cover shoot!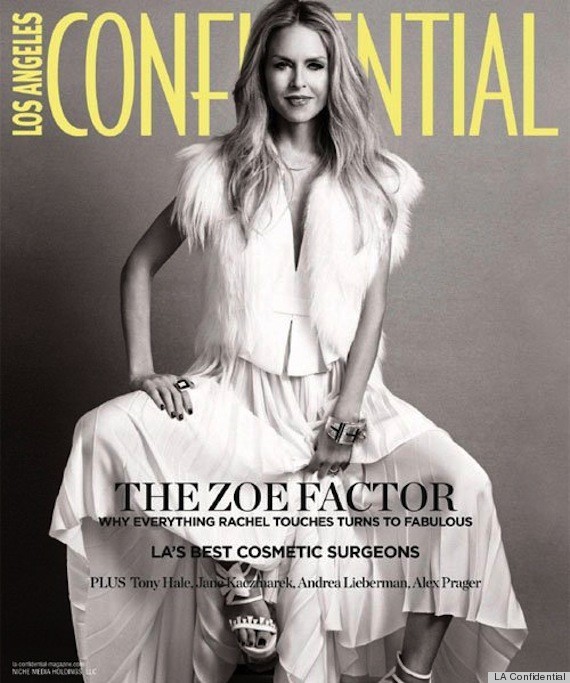 BEFORE YOU GO
See Rachel Zoe's style evolution!
PHOTO GALLERY
Rachel Zoe's Style Evolution