Got a success story of your own? Send it to us at success.stories@huffingtonpost.com and you could be featured on the site!
Name: Scott Leonardis
Age: 36
Height: 6'4"
Before Weight: 249 pounds
How I Gained It: Pure laziness! I'd eat a pound of pasta and then look for cake and a bag of Doritos. I've got four kids at home, and I'm the vacuum; I'll swoop in and eat whatever they don't finish. It's a rhythm of not going to the gym and not thinking twice about it. I always played sports, I was never heavy. That's probably the heaviest I've ever been. So there was nothing but sheer laziness that led to it.
Breaking Point: One of the teams here at AOL held a "Biggest Loser"-style weight-loss competition. For three months, we had weekly weigh-ins on a scale in the office. It was a contest; I wasn't going to lose!
How I Lost It: I started using the myfitnesspal app to count my calories. It will log your calories for anything with you bar code that you scan. You can also manually add them, and you can log cardio as well. I tried to stay below what the app told me should be my daily calorie intake. With the calories burned from my StairMaster and treadmill workouts, my net for the day was usually under by a few hundred.
I also stopped eating junk food cold turkey. If I got hungry at night, I went to bed. It was one way for me to curb the hunger at that point. I ate a lot of egg white omelets with turkey bacon and fat-free whole-wheat crackers. I really tried not to cheat. I didn't have a sip of alcohol the entire time. No need to drink your calories!
I have to admit, since it was a contest, I did get a little crazy. There's no way I should be at 195 pounds. I've put a few pounds back on -- I'd like to maintain a weight anywhere between 210 and 220, which is more comfortable for me.
Final Weigh In: 195 pounds
Current Weight: 210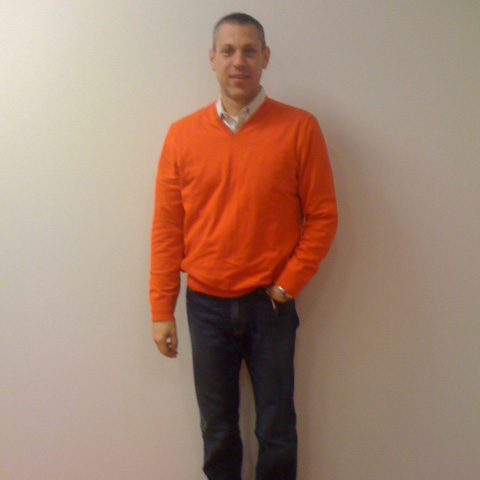 Check out more of our inspiring weight loss stories below:
PHOTO GALLERY
Weight Loss Success Stories
For more on weight loss, click here.