ALBION, Pa., -- For the second time in as many months, the Pennsylvania state prison here is in the spotlight for losing a lawsuit brought by a prisoner.
The most recent case involving the State Correctional Institution at Albion was filed by Leonard Jefferson. The 64-year-old inmate, who has served 18 years of a 20-year sentence for aggravated assault, sued the prison for violating his First Amendment rights in July 2009 after staff members seized three of his drawings. Two of Jefferson's drawings featured Osama bin Laden and the third, titled "Sista-Matized," was labeled "racial artwork" by prison officials.
Erie County Judge John Garhart ordered prison officials to return "Sista-Matized" to Jefferson. The drawing depicts a row of men caged in a cell block.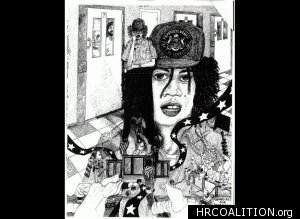 "Superimposed is the image of a black female prison guard- who is obviously distraught- and below, a courtroom scene in which the judge, jury, prosecution, and public defender are robed and hooded Klan members," reads a description of the drawing on hrcoalition.org. "The defendant is a black man with a sign across his back that reads, 'nigger'. On the desk of the prosecutor is a copy of a book entitled Genocide for Dummies; on the side of the book is printed 'Property of the DA's office.'"
When Jefferson filed a grievance with prison officials, he was reportedly told the drawing had "negative connotations towards corrections officers, judges, and the criminal justice system."
Garhart disagreed. "While a prisoner may not, with art or speech, incite or inflame, he retains the right protected by the Constitution to criticize the system that put him there. From Cleaver to Kafka, from Dickens to Dostoyevsky, criticism of the justice system is a continuing theme in the human experience. And permitting such criticism, openly and without hostility, is a mark of a mature and free society," Garhart wrote, according to The Erie Times News.
Garhart said seizure of the bin Laden drawings was justified because they could incite violence. The judge referred to Casey Anthony, the Florida mom who was acquitted of killing her 2-year-old daughter, Caylee Anthony, last year.
"The court takes judicial notice of the fact that, prior to Casey Anthony, bin Laden was the personification of evil in the United States," Garhart wrote, according to the Times-News.
SCI Albion, a medium-security correctional facility 30 miles southwest of Erie, made headlines in February, when a jury awarded Derrick Jones, a 41-year-old former inmate, $312,000 for negligent care based on a broken ankle and subsequent tumble down a stairway.
Jurors found that Prison Health Services Inc., a for-profit company contracted to provide health care at the prison, failed to provide Jones with appropriate care after he broke his ankle in 2006.
The verdict in Jones' case, reached Feb. 17, came the day The Huffington Post published an exclusive interview with Kevin Barwell, a retired Albion correctional officer who blasted prison conditions. Barwell, 48, said he spoke out because of the New Year's Day death of Dennis Austin, a convicted rapist who died with bedsores covering a large portion of his body.
WARNING: GRAPHIC PHOTOS OF DENNIS AUSTIN (Article Continues Below)
PHOTO GALLERY
Dennis Austin
"It's happened before. This is a pattern that's been ongoing," Barwell said. Austin's death "is a direct result of negligence. They're not doing their job."
Austin, 48, had been diagnosed in July 2010 with lung and bone cancer, and the county coroner, Lyle Cook, attributed his death to lung cancer. Austin, imprisoned since 1991, had been serving a 28-to-57-year sentence for rape and kidnapping. His sister, Paula Thomas, said photos of her brother's bedsores demonstrate serious neglect. "It's awful. It's just awful," said Thomas, who said she suspects the bedsores caused or contributed to her brother's death.
Lawyer Jeffrey Del Fuoco, who represents Austin's family, said he is considering a lawsuit against the prison.
BEFORE YOU GO