Brandon Ballengée is a visual artist and a biologist. It shouldn't be surprising, then, that his photographs and installations involve pressing environmental issues. His exhibition "Collapse: the Cry of Silent Forms" explores the effects of the damaged environment on marine life. In the images below, the artist "cleared and stained" the frogs, making them semi-transparent. This method of preparing amphibians leaves the flesh clear, while the bones are rendered red, and the cartilage becomes a washed-out blue tint.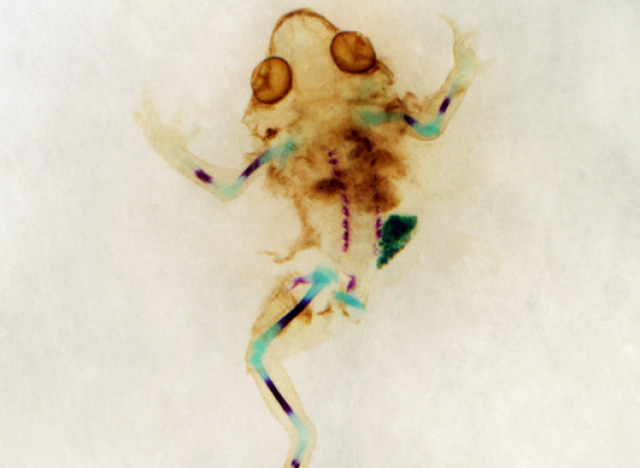 In another work Ballengée scans photographs of birds whose wings have been mechanically prohibited from developing in uteri. Other underwater organisms are depicted so delicately they almost appear ghostlike, and their neon glow that suggests chemical imbalances. Multi-limbed experimental frogs appear candy-colored; the skeletal forms depict the bare essentials of the organisms, showing both beauty and fragility in these monstrous forms.
The exhibition's main attraction is a pyramid of gallon jars housing preserved fish and sea creatures, representing the interconnectivity of the species under the sea. In this way, the photographer's works respond to the global collapse of fisheries and well as the precarious lives of individual undersea creatures.
"Collapse: the Cry of Silent Forms" will show from May 5 to June 16 at Ronald Feldman Gallery in New York.
Do you think art can effectively raise awareness for environmental causes? What is an issue you care about? Let us know in the comments section below.
BEFORE YOU GO