Story comes courtesy of The City Maven.
The $7.2 billion budget released today by Mayor Antonio Villaraigosa calls for laying off civilian members of the Los Angeles Police Department and increasing retirement age for new employees.
Of the 669 positions that would be eliminated in the budget, 231 are currently filled with employees. About two-thirds of those jobs belong to clerks, secretaries and administrative staffers at the LAPD. Without those employees, it could take longer to get copies of reports, though duties will not be shifted to sworn officers.
The remaining layoffs will take place in: Animal Services, City Clerk's Office, Ethics, Office of Finance, Fire Department, General Services, Information Technology Agency, Neighborhood Empowerment, Personnel and Street Services.
In the last four years, the city's civilian workforce has been reduced by one-third.
The mayor is also calling for pension reforms that would impact new civilian employees by increasing the retirement age to 67. Right now, employees can technically retire at 55 with full benefits. The plan would also cap the maximum retirement allowance to 75 percent of an employee's final compensation. Cost of living adjustments would be reduced and "banking," which allows unused adjustments to be applied to future years, would go away.
"I strongly urge you to review and expeditiously adopt these reforms," Villaraigosa wrote in a letter to members of the Los Angeles City Council.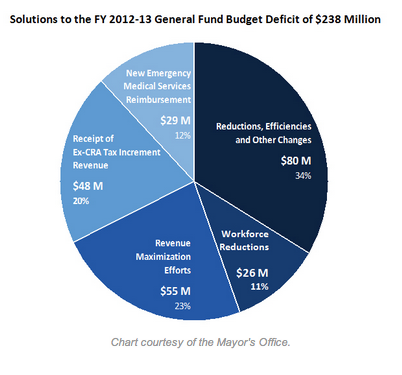 The budget eliminates an anticipated deficit of $238 million thanks to the proposed layoffs, the receipt of Community Redevelopment Agency tax increments and emergency medical services reimbursements, among other actions.
The reserve account will have $211 million in i, falling just short of the city's goal of keeping 5 percent of the General Fund in reserves.
The city will also restart the recruitment and hiring of firefighters. The Valley Drill Tower will reopen, though new firefighters will not actually be hired until September of 2013. Nine Emergency Medical Services captains will also be funded. EMS captains can free up ambulances by staying with patients who have to wait for an open bed at a hospital.
The Los Angeles Police Department will continue to hire sworn officers to attrition.
Other highlights of the 2012-13 budget include:
-Six LAFD ambulances and one additional engine company in the San Fernando Valley;
-Expanded hours at branch libraries on Monday and Wednesday nights and Friday mornings;
-Measure R funds to resurface 800 miles of city streets and repair 350,000 potholes;
-Eight percent cuts to the mayor's, city council's and neighborhood councils' budgets; and
-Funds to update the city zoning code
The fiscal year will begin on July 1.