We've long admired Dove's "Real Beauty" campaign, an effort launched in 2004 to enlist "real women" models (i.e. not just super-skinny professional models) to showcase Dove products and boost women's self-esteem at the same time.
The idea, which we definitely support, is "to make more women feel beautiful every day by widening stereotypical views of beauty." Now, with Dove's "The Ad Makeover," the brand is going further to make women feel beautiful: combatting negative advertising.
Specifically, Dove is setting its sights on all those small but sneaky ads on the side of your screen that shout-out to your "jelly rolls" or "love handles" or "muffin tops" (and sometimes even animate them -- that's the worst). Through Dove Australia's "The Ad Makeover," created by Ogilvy, Aussie women can go online and create alternative, feel-good ads instead. Instead of targeting your insecurities, the messages include "The perfect bum is the one you're sitting on," for example, or "When it comes to your body, love the one you're with."
Our favorite: "Think of your cups as half full."
The result? You and other women will see colorful, positive ads along the side of your profiles instead. The push to change the way we talk about our bodies -- and in this case, the way our bodies are talked about -- is something we're totally on board with. Now if only Dove could bring the Facebook campaign to U.S. soil ASAP...
Watch the video above and go to Facebook.com to see more. Would you participate?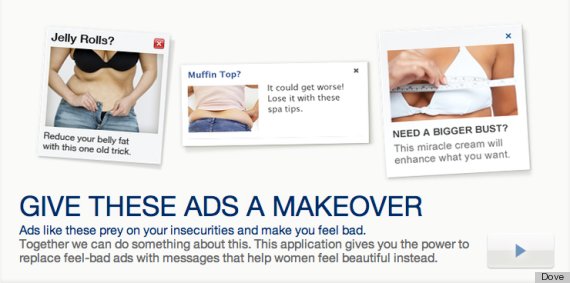 For more "feel-good" body image vibes, check out these magazine covers with your favorite stars WITHOUT airbrushing!
PHOTO GALLERY
Des stars au naturel