Bruce Cohen's still lifes combine an intensely heightened perception with nebulous subject matter. His painted objects are imbued with a sense of urgency; the paintings depict the nonchalant moments before and after a dramatic climax. Rumpled sheets, spilled cherries and abandoned bedrooms hint at torrid affairs since past. All we are left with are detailed clues pointing to the series of events behind Cohen's grey zones.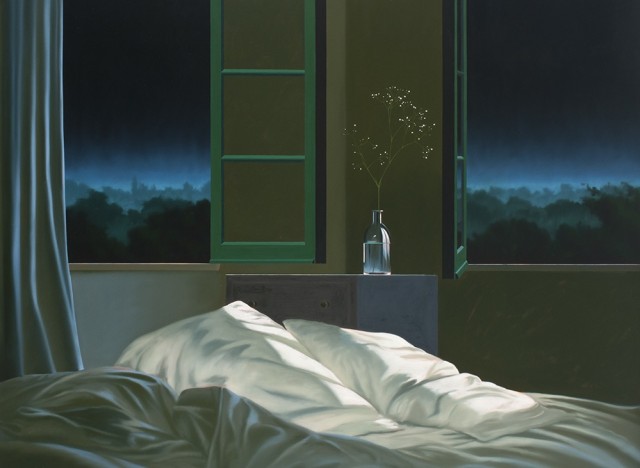 The artist's technical skill translates into a detective-like curiosity, bringing ordinary objects into the realm of the surreal. Think Robert Minervini's contemporary ominous still lifes with a hint of Rene Magritte's Surrealist touch. Each object, color, and line is heightened to the brink of sensual experience. There is an erotic voyeurism to act of seeing these objects so clearly while not knowing what they actually mean.
Paul Wonner said of Cohen's works: "I feel sometimes that I am looking at a place where some tremendous, mystical event has just taken place." The intrigue and the sensuality are never fully realized, left to pulse in the tulip petals and stormy skies.

Cohen's collection of recent works will show at Louis Stern Fine Arts from April 28 - June 16 in Los Angeles.
Do you sense a sexy undertone to these paintings? Let us know in the comments section.
PHOTO GALLERY
BEFORE YOU GO