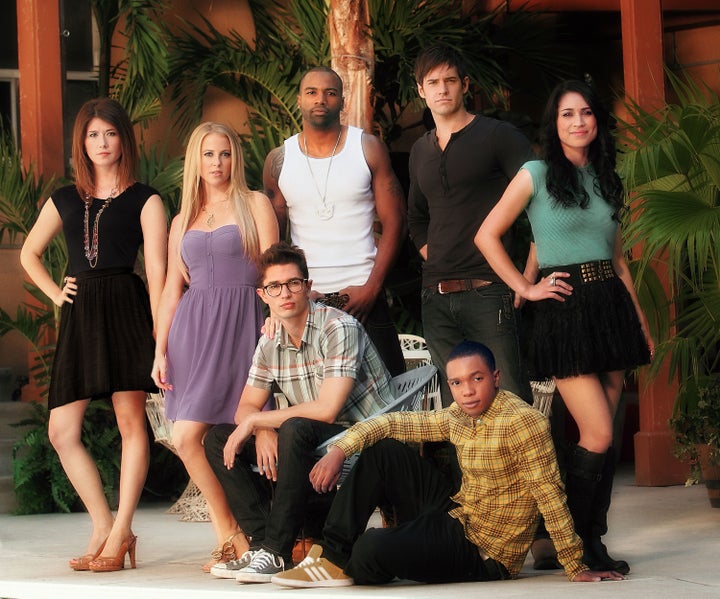 Are you a fan of pretty people, Hollywood and gritty teen dramas? If so, then say hello to your new guilty pleasure, "The L.A. Complex." Originally scripted as a spinoff of Canadian staple "Degrassi: The Next Generation," the series follows the lives of several wannabe-famous young actors, dancers, singers and writers living and trying to get by in Los Angeles.
Unlike other shows of similar genres, like "90210," "The L.A. Complex" showcases a darker side of Hollywood life, one that isn't all spray tans and Rodeo Drive. Cassie Steele, who played Manny Santos on "Degrassi" for nine seasons, told HuffPost TV that she was attracted to the role of Abby, an aspiring actress, because of how similar it was to her own life when she moved to L.A. for pilot season, hoping to land a gig.
"The situations that Abby goes through are some of the same things that I've personally been through, like waiting for jobs and all of the anxiety you feel when nothing is certain," Steele said. "But Abby is much more driven than I am. When I was down in L.A., I was focusing a lot on my music because I couldn't take the rejection. It's really hard down here. Some days, I just couldn't do it."
Before landing her dream role, Steele, like her character Abby, went through a lot of rejection -- in the pilot episode, Abby misses an audition thanks to her busted car -- and the young actress definitely has more than a few audition horror stories to tell. "You never have an indifferent feeling after an audition," said Steele. "It's either gone really well or really terribly. Recently, I accidentally swore in an audition, really loudly, and I was really embarrassed and tried to laugh it off, but they were not impressed. Needless to say, I did not get that job."
However, "The L.A. Complex" isn't just about ambitious young people. Resident mean girl Raquel Westbrook, played by "Firefly" star Jewel Staite, is a former successful teen actress who now struggles to land work.
Staite appreciated the opportunity to play a strong, manipulative bad girl, especially since it's a far cry from the sci-fi roles that she's known for. In other words, there's nothing "shiny" about Raquel's life.
"I started out doing things like 'Flash Forward,' where I was the girl-next-door, and then, I did a show called 'Higher Ground,' where I played this really mean, sarcastic girl," Staite said. "Then 'Firefly' happened and everybody thought of me as this bubbly, sweet girl-next-door again. Now, it seems like it's all cyclical, and I'm back again playing this snotty, sarcastic brat. Everyone loves to play the bad guy, especially a character like Raquel who just doesn't care. If you're in her way, then she will find the quickest way to destroy you. She's ruthless."
Raquel may be ruthless, but she's not about to give up on her Hollywood dreams just yet. For Staite, that's Raquel's most endearing quality.
"I can definitely see where she's coming from," said Staite. "Luckily, the difference is that Raquel has no support system. She's so career obsessed. That's all she cares about. She's got a hole in her, and she's trying to fill it with work, but it's just not happening. Now she's reached that point of total desperation.
Some of Raquel's most devious acts include going to AA meetings to network (something Staite calls both "absurd" and "really smart"), crashing auditions and conning people for money.
Off screen, Steele was starstruck by Staite, one of her sci-fi idols. "I'm a huge geek, so I love 'Stargate' and 'Firefly,'" said Steele. "She's like a real hero to me." But the actress' characters do not have similarly loving relationship. Abby and Raquel are pretty much the definition of Hollywood frenemies.
"Raquel hates Abby," said Staite. "She is just not OK with Abby moving in to The Lex at all because Abby is who Raquel was. She just moved from Canada, she has stars in her eyes, she's young and beautiful and ready to work. She has her whole future ahead of her. Of course Raquel hates her!"
Although Steele is quick to point out that Raquel has a reason to be angry, it's not just Abby who becomes one of her targets.
"There is that tension between the two of them, but we're not capitalizing on that," said Steele. "It's so much more than just jealousy. This is a pivotal point in Raquel's life. She really has to hustle for work, and she'll do anything to land a role, even if that means screwing other people over. So I wouldn't say she's a jealous character, just extremely driven."
Of course, when it comes to teen dramas, guys complicate everything, so expect young hotshot -- and Raquel's best friend with benefits -- Connor Lake (Jonathan Patrick Moore) to stir up drama when he and Abby have a drugged-out hook up in the pilot episode. They wake up only to realize that they had unprotected sex, which results in Connor treating Abby to breakfast -- and the morning after pill.
It's intimate moments like these that make "The L.A. Complex" simply instructive without seeming moralizing, like Steele's previous show "Degrassi."
"If you grew up with any of the niners [on 'Degrassi'], then you're probably my age now and realizing that there aren't always consequences for your actions," said Steele. "Sometimes things happen for no reason. It's a real portrayal of life in Los Angeles. It's not as glamorous as it appears to be. It can be full of heartbreak."
"The L.A. Complex" premieres at 9 p.m. ET on The CW. Watch the first episode of the new CW series below.
BEFORE YOU GO