This season, it's time to put away the mini skirts and dresses and opt for something a bit more demure. Longer hemlines and looser fits are once again de rigueur, and a great way to translate the trend into your personal wardrobe is by slipping on a sophisticated, full skirt.
The re-emergence of this '50s staple can be traced to the spring 2012 runways of Prada, Oscar de la Renta and Blumarine, along with recent red carpet appearances by Leelee Sobieski and Scarlett Johansson.
However, one can easily make the mistake of buying an ill-fitting, full skirt. Here are our tips on preventing a potential circus tent-esque disaster:
1. Buy the right fit in proportion to your height. If you're on the shorter side, a full skirt that hits just above the ankle will look like it's drowning you. Try a hem just at or below the knee with a high heel to lengthen your legs and keep both your figure looking slim. If you're tall, try a longer piece with flats to accentuate your long legs without showing too much skin.
2. There's such a thing as too full. Too much flounce will widen your figure, so if you have a curvier body type you want to make sure the volume is at a more subtle A-line.
3. Try it with a belt. This is how girls in the '50s and '60s wore full skirts -- belted at the torso. "Hunger Games" star Jennifer Lawrence was seen rocking a similar look on Good Morning America. It helps define the waist further, which is great for those with short waists. Depending on the type of belt, it can add a little edge as well.
4. There are full skirts for day and night. Evening calls for a voluminous LBD or a printed full skirt paired with a silk blouse. During the day, you don't want to look like you're going to a ball. Lighten things up with a longer full skirt paired with a crop top (like Lana Del Rey) or crisp button down.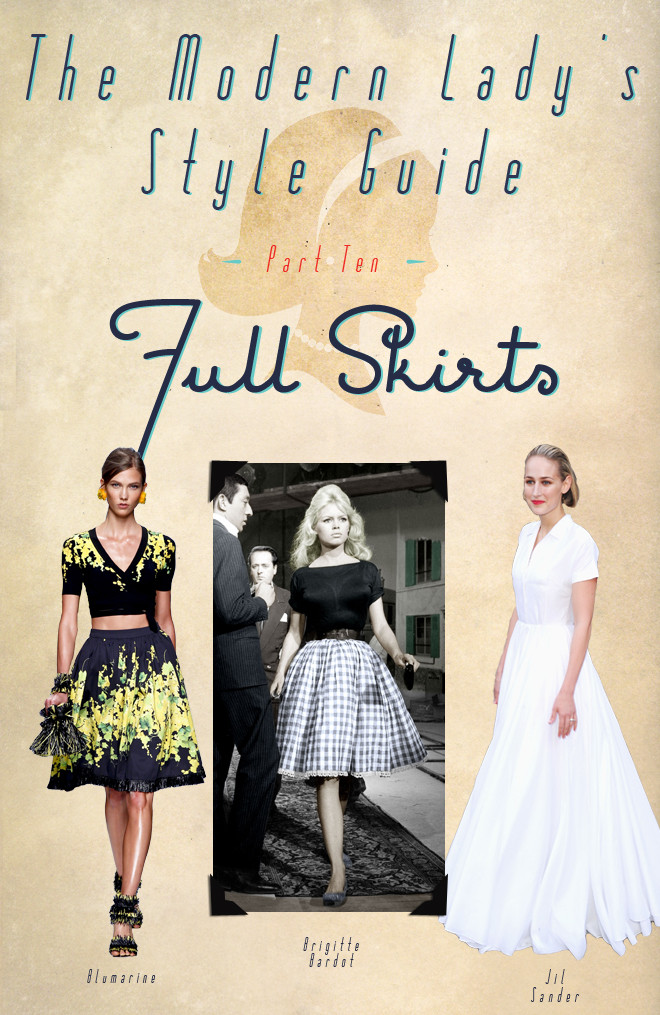 GoRunway/Getty, Art by Bobby Doherty
This spring trend is an easy alternative to the usual warm weather, thigh-bearing bottoms. Take a look through the gallery below to see some of the most lust-worthy full skirts available now.
BEFORE YOU GO