Beyonce may be the People's most beautiful woman, but she still takes style tips from other stunners. The new mom borrowed a look from Heidi Klum for the new cover of People's 2012 Most Beautiful Issue, as Fashion Fois Gras pointed out... and added her own flare.
On the cover, Beyonce sports the a turquoise and diamond Lorraine Schwartz necklace atop a white Marchesa gown. But you fashion followers will recall that Heidi first wore the Schwartz piece to the 2012 Golden Globes in January along with matching rings. The entire collection carries a $1 million price tag.
Beyonce re-snagged the look at the bequest of Schwartz himself. "Beyonce is the most beautiful woman in the world inside and out," Schwartz told People. "Being around her gets my creativity flowing and I'm always thinking of that something perfect just for her." The result of that creativity? Flipping the necklace around so the piece was worn backwards, with the majority of the jewels hanging over Bey's (officially gorgeous) shoulder.
Then again, Beyonce often engages in a little "Who Wore It Better" with great success. That red Alice Temperley dress? Worn by someone else. Same goes for a black leather Michael Kors gown worn by Leighton Meester and a Rag & Bone tuxedo jacket worn by none other than Kim Kardashian.
But you know what Beyonce's got that Kim, Leighton and Heidi don't? The title of 2012's Most Beautiful Woman in The World.
Check out the Lorraine Schwartz necklace below and tell us: do you prefer Beyonce's backwards style or Heidi's original look?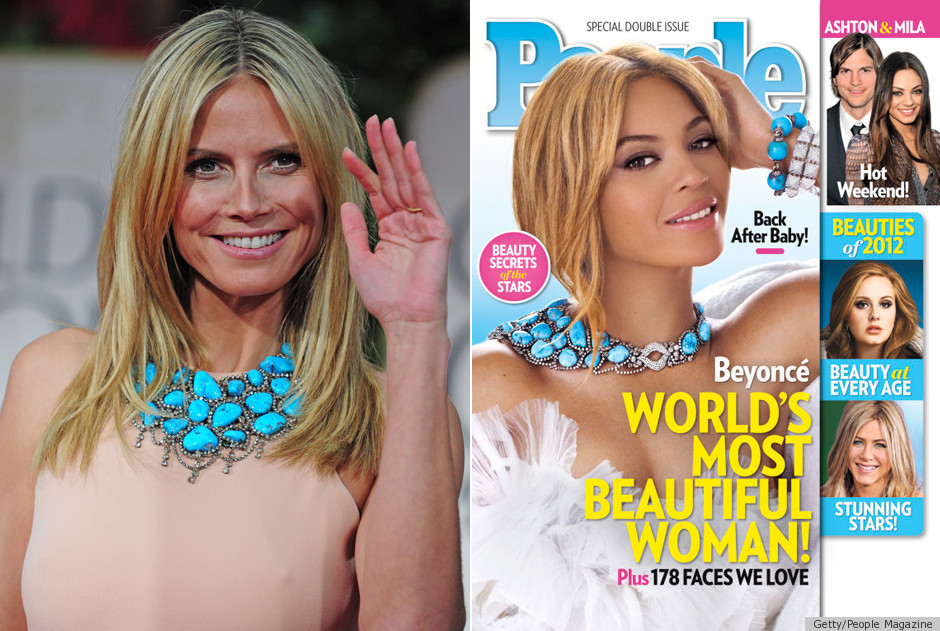 See Beyonce's style evolution!
PHOTO GALLERY
beyonce wide evo (CLONED)