Shoshana and Nathan Philips are from the Omaha tribe in northeastern Nebraska, where Shoshana served as a healer and educator. She was diagnosed with cancer five years ago and moved with her husband and two children to Michigan for treatment. Although doctors predicted she had only six months to live, she is still alive and fighting five years later. Shoshana is currently undergoing chemotherapy, but she credits much of her health to the Native American traditional healing rituals she has carefully observed throughout these treatments. A new documentary directed by Maria Stanisheva, titled, 'Between Earth and Sky,' is about their quest for a cure.
As medical options are dwindling, Shoshana and Nathan are returning to the Omaha reservation to gather willow poles to create a purification sweat lodge and ceremonial tipi. The family will then travel to Washington D.C. to participate in a gathering of elders that takes place each May in front of the White House. 'Between Earth and Sky' will follow the family on this journey, exploring the ancestral and familial traditions that bind us together. The two children will also record video diaries for the documentary in a mission to document their mother's stories. This way, she will always be with them, no matter what happens.
To find out more about the project, we interviewed Stanisheva, a Bulgarian filmmaker with an interest in social issue documentarie; her answers are below.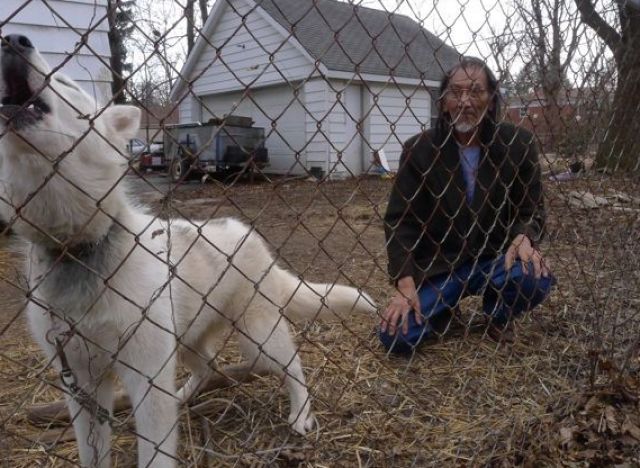 Image courtesy of Maria Stanisheva.
HP: What brought upon your interest in this story?
MS: When I moved to NY last year one of the topics that caught my attention were the Native American reservations in the US. The little I knew about Native Americans was based on Fenimore Cooper novels and Westerns. While researching I found out about some of the history behind the process and a number of social issues in the reservations like poverty, unemployment, alcohol addictions and domestic violence which focused my attention. I also tried to learn something about the ways the different Native people communicate and sustain their traditions and this is how I met the Phillips family - at a small family Becoming of Age ritual they were performing in Washington, DC. They impressed me with their family story and their struggle to integrate a very urban and pragmatic lifestyle with their indigenous traditions.
HP: What differences do you notice between your Bulgarian upbringing and the family's Native American upbringing?
MS: When I was growing up in Sofia a big part of the debate around me was historical and political. It was during my teenage years when the biggest outdoor political protests happened and the former Communist regime fell. Part of that background is the reason why I dedicated years of my life studying Political Science and later realizing that it is not the political but the personal that interests me more.
I have always been interested in diversity issues and minority rights and have done some work in that area. Comparing my experience with the Native American reservations is almost impossible because they are a rare example of indigenous people being isolated in their own land. I hope that being a foreigner will help me tell their story form a new perspective.
HP: How has this project changed your perceptions of death?
MS: Like many other families fighting cancer, death has been a major topic for the Phillips. I was interested in how open they were in both talking about it and letting a stranger in their life at this moment. I cannot say it has changed my perception of death but it has definitely changed my perception of belief in tradition, support within small communities and faith. I think we can all learn from this story.
Help realize this beautiful vision by visiting the film's Kickstarter page here.
BEFORE YOU GO