A 14-year-old student from Longfellow Middle School in Enid, Okla., was left seriously injured and had to undergo surgery after an incident of bullying went too far, KOTV reports.
According to a report filed by Enid Campus Police and obtained by the station, an argument between two middle schoolers during recess resulted in one student punching the victim repeatedly until he became unconscious -- suffering broken bones, "severe lacerations and possible internal injuries."
(SCROLL for police report and image. WARNING: Image below is graphic.)
KFOR-TV reports that the boys bumped into each other while playing dodgeball, after which the suspect told authorities the fight broke out when the victim called him a derogatory name.
After the victim was hospitalized and underwent surgery, his mother expressed her anger over social media but would not return calls from KFOR.
"She is devastated," family friend Joy Buckminster told the station. "She's not sleeping, of course."
Although no disciplinary action has yet been taken against the suspect, Enid Schools Superintendent Shawn Hine told the station the school is cooperating with authorities.
"Nothing is more important than the safety of our students," Hine said. "The EPS Police Department is investigating the situation and legal charges are pending. Our thoughts and prayers are with the student as he recovers from his injuries."
Family friend Jeff Rust has set up a fund to help with medical expenses and is seeking awareness and support on Facebook.
Integris Bass Baptist Health Center spokeswoman Anita Leutkemeyer said the 14-year-old was in fair condition as of Wednesday, the Enid News and Eagle reports.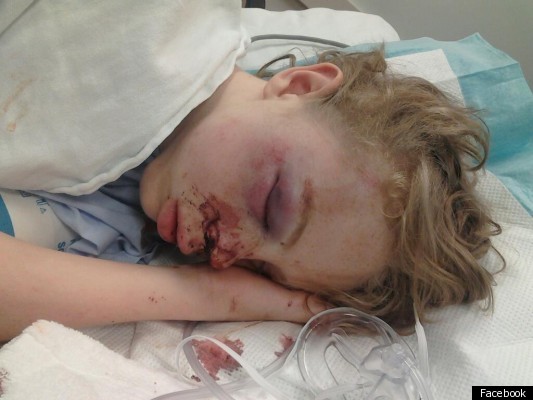 Other school bullying incidents:
PHOTO GALLERY
School Bullying Incidents