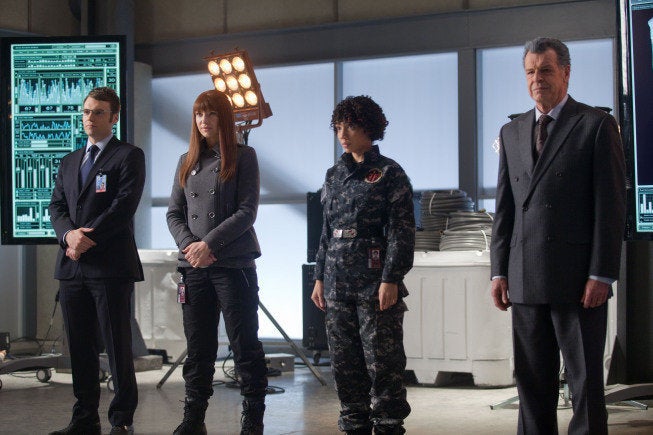 It's a good week to be a fan of "Fringe" (Fridays at 9 p.m. ET on Fox); April 26 brought the welcome news that the show has been renewed for a fifth and final season, while April 27 offers an action-packed new episode that will reunite our core characters with some familiar faces from their (alternate?) past.
HuffPost TV was on set for the filming of episode, entitled "Worlds Apart," and from what we observed, the episode holds plenty of payoffs for loyal fans, both in terms of the show's mythology and some long overdue interaction between the two universes. Check out our exclusive video interviews with Joshua Jackson, Seth Gabel, Anna Torv and John Noble below, and read on to find out what else you can expect from this week's episode.
After "Letters of Transit's" stunning detour into a bleak future populated by megalomaniacal Observers, Episode 20 sees Fringe Division back on the trail of the elusive David Robert Jones (Jared Harris), whom Joshua Jackson (who plays Peter Bishop) describes as a "very bad man ... continuing on his wicked ways." Anna Torv (Olivia Dunham) expanded on Jones' most recent scheme when we sat down with her between takes: "We've found that there have been these earthquakes happening, these kind of strange things going on. But they've been happening on both sides, so our two Fringe teams have to come together in order to try and find what the cause of this is. A few faces from the past pop up, which is always fun."
According to John Noble (Walter Bishop), the connection between the two universes is the primary focus of the episode. "At the end of Season 3, we joined the deteriorating worlds together with this bridge, as a result of which the universes started to heal themselves. We're now faced with the situation that any great discovery could be used for good or evil," the actor explained. "So, what happens if that bridge now begins to be used as a conduit for evil? That's the issue we're facing. What do you do? What do you do with this wonderful discovery? Do you keep it? What do you lose if you lose it? For example, if we didn't have that [link], we wouldn't have Bolivia. We wouldn't have Walternate. We wouldn't have Alt-Astrid. We wouldn't have all these wonderful characters that we've grown to love. What would happen? I think we have to face that issue. We have to face the issue of 'How long can you keep this alive, this link between interlacing the two universes?'"
That issue will hit home particularly hard for Lincoln, who -- following the death of his alternate version and his unrequited crush on our Olivia -- traveled to the other universe to assist Bolivia with her cases. "Lincoln's interest is being piqued by this other side, because there are other opportunities that exist," Seth Gabel teased, talking to us before we learned that his character, the other Lincoln would die. "It's not even that there's more fish in the sea, there's more than one sea."
Not only will the episode feature a "beautiful scene" between Walter and Walternate (and will see "all the doppelgangers talking to each other"), Noble also shared a few details about the reappearance of Nick Lane, played by David Call. "They're bringing back characters that were introduced in Seasons 1, 2 and 3; suddenly this rich history that was built up is coming back," he enthused. "We've already brought David Robert Jones back; he's one of our two great villains, Newton was the other. But Nick Lane, [one] of our established Cortexiphan kids, will be brought back into it again ... with the powers that Walter gave him, but not necessarily for good. Our key player in that has to be the leader of the pack, which is Olivia, as we've established previously. She was the leader. She was the most naturally gifted and remains so. This episode is bringing those things back together for us as we face the decision of what to do. Do we keep the worlds together? How do we keep them together without creating the monster that is happening? How do we stop this monster from happening? That's what this is all about."
Nick Lane (or his alternate version) might not be the only one potentially using his powers for evil in this new timeline; Noble also hinted that a "major, major player from the past" comes back within the next three episodes, but couldn't reveal more than that.
At the time of our visit, the show's future was still uncertain, but Noble proved surprisingly prescient in predicting the 13-episode pick-up that the show would ultimately receive for its final season. "If I was a betting man, and I'm not, but if I was, I think we'll probably get 13 more. It kind of makes sense to allow a great story to finish its telling over such a long period of time," he observed. "Thirteen would give our writers the chance to work things out."
We're just relieved that his psychic powers seem to be in working order. Maybe he can suggest some lotto numbers for us?
Are you relieved that "Fringe" was renewed? Which familiar faces do you think will reappear in the next three episodes?
Weigh in below, and don't forget to tune in to "Worlds Apart," Friday, April 27 at 9 p.m. ET on Fox.