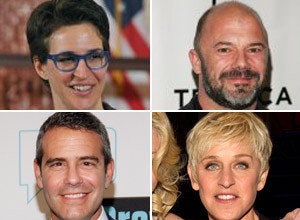 Out Magazine released its annual "Power 50" list on Friday, which included some of the media industry's most notable figures.
The magazine measured individuals power based on their ability "to influence the way others live -- either through their public personas, politics, or wealth -- and affect cultural and social attitudes."
Topping the list as the second most powerful gay person in America was talk show host Ellen Degeneres. Cable news favorites including MSNBC's Rachel Maddow, CNN's Anderson Cooper and Fox News' Shepard Smith were also ranked within the top ten, placing in the fifth, sixth, and ninth respective spots. Both Cooper and Smith, along with Newsweek/The Daily Beast owner Barry Diller, who placed eighth, have not commented publicly about their sexuality.
PHOTO GALLERY
Media Figures On Out's 'Power 50' List