Fumi Nakamura's drawings contain all of the elements of a fairytale except the narrative flow itself. The drawings invoke the traditional characters we've seen before -- the fair-skinned girl, the bad wolf, the tangled weeds -- but instead of unfolding as expect, they are all swept up in a web of pure fantasy.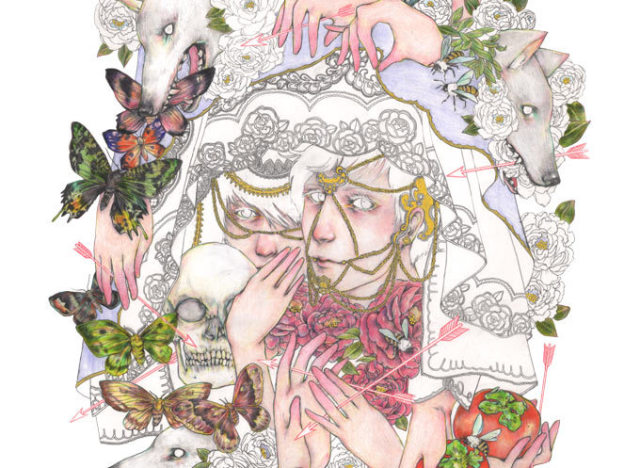 Fumi Nakamura was born in a small town in Japan and moved to the United States at 12 years old; she currently resides in Brooklyn as an illustrator/designer. Of her youth Nakamura has said: "I grew up surrounded by beautiful mountains and ocean, what childhood it was!" A childlike imagination is visible throughout Nakamura's carefully detailed colored pencil drawings.
She told Juxtapoz in an interview her life philosophy could be summed up as "Chaos, Consequence, Result," which we think resonates with her visual anti-stories. The artist, who is also part of Takashi Murakami's Kaikai Kiki production company, just showed her work in the exhibition 'Our Hands Will Eventually Destroy Everything Beautiful' at Thinkspace. Beauty and destruction are visible throughout the works, from butterflies to skulls. Her tapestries of whimsy are composed of familiar, if not tired imagery, yet Nakamura's technique manages to revive the magic the items once held.
Do you have a soft spot for Nakamura's drawings? Let us know your thoughts.
BEFORE YOU GO