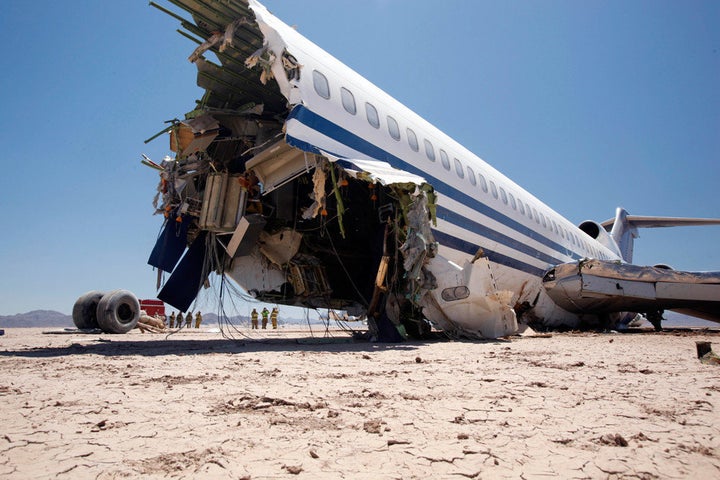 Discovery Channel has crashed a plane in the Mexican desert for its new series "Curiosity." According to the network, a Boeing 727 passenger jet was deliberately crashed in an uninhabited Mexican desert. No damages or injuries occurred.
No passengers were on the plane, instead it was packed with science experiments like crash test dummies. Cameras recorded the crash from inside the plane, on the ground, from other planes and from the ejecting pilot's helmet.
"This ground breaking project features an actual crash of a passenger jet and explores the big questions about how to make plane crashes more survivable; it's the ideal premiere episode for our 'Curiosity' series that stirs the imagination of our audience, bravely asking questions and fearlessly seeking answers. This latest production captures that audaciousness perfectly and I can't wait to share it," Eileen O'Neill, group president of Discovery and TLC Networks, said in a statement.
The aircraft will be salvaged and according to Discovery, an extensive environmental clean-up operation will be carried out in cooperation with Mexican authorities.
"NASA were the last people to attempt a crash test of a full passenger jet three decades ago," Sanjay Singhal, executive producer from Dragonfly Film and Television Productions, said in a statement. "Now, with the improvements in filming and remote control technology we felt that the time was right to do it again. It's never been safer to fly, but we want to use this as an opportunity to provide scientific data that might help to improve passenger safety in those extremely rare cases when a catastrophic aircraft accident does occur."
The crash and results are scheduled to air later in 2012 as a feature-length documentary on Discovery Channel in the US, Channel 4 in the UK and Pro Sieben in Germany.
BEFORE YOU GO