There is an undeniable magic to Italian Renaissance paintings, where fabric ripples with a supernatural grace, and hair cascades with both abandon and control. Every pattern, ever ornament and every shadow looks exactly as it should. Domenico Gnoli, an under-appreciated Italian painter who died in 1970, was able to channel that Renaissance magic into modern Pop-ish paintings of domestic objects. Working with a mixture of acrylic and sand, Gnoli's technique harkens back to the frescoes of the Quattrocento. Both genres are interested in how time shows up in the works; rather than fearing the effects of age they invite it into the work. Hints of M.C. Escher's mysterious stairways and Rene Magritte's paradoxical eye pervade this Renaissance classicist approach, creating complex works that demand further investigation.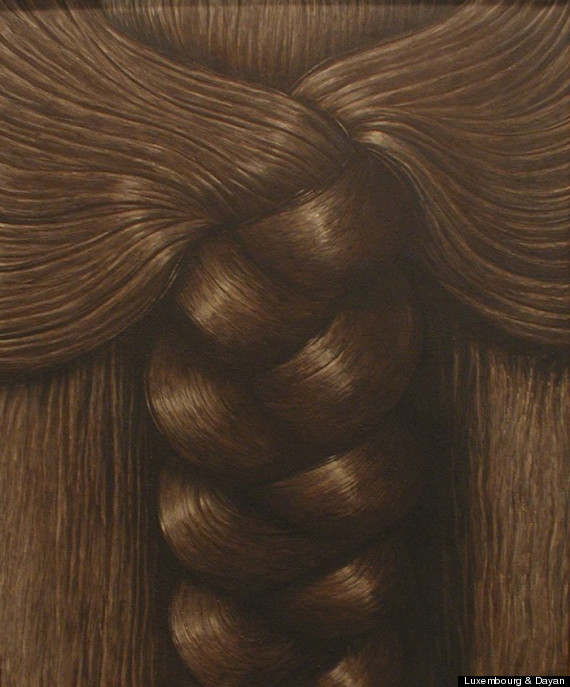 Gnoli paints close-up views of domestic items, reveling in every pattern, wrinkle and curl; the secrets of the universe rest in the pinstripes of a blouse or the dents left in rumpled sheets. He looks at his surroundings as if he were a child looking up to his parents, where true sophistication is bottled in a crisp collar, and wisdom in the pleats of trousers. Most of the works featured in the exhibition were made in the last five years of Gnoli's life, before his death at only 36 years old. As a result, there is a bittersweet tone to the exhibition, since we're seeing the work of a talented artist unable to have his vision evolve and progress. We are left with the fragments of a short career, but it is an assuredly beautiful one.
The exhibition will show at Luxembourg & Dayan in New York until June 30.
See a slideshow of the work below:
PHOTO GALLERY
domenico gnoli
BEFORE YOU GO