May Day, which falls each year on May 1, is International Workers' Day. In Los Angeles, several rallies and protests are planned to recognize the contributions workers are making to the country and to protest for better working conditions, fair pay and immigration reform.
Occupy Los Angeles is trying to encompass all the events in a city-wide demonstration that brings protestors out in caravans of cars, on bicycles and marching by foot. Four different "winds," coming from all four corners of the county, will converge at 6th Street and Main Street in downtown LA at 2:30 p.m., near Skid Row, to feed the homeless and raise awareness about economic inequality.
CLICK HERE OR SCROLL DOWN FOR LIVE UPDATES.
The route is studded with mini-protests like an SEIU strike at LAX (6 a.m.), a memorial for members of the Black Panther Party (12 p.m. at 41st and Central) and a cupcake "flash occupation" in Beverly hills (11 a.m. at Rodeo Drive and Wilshire Boulevard). While the Occupy movement didn't organize all the events, the Occupy May 1st map lists them all en route to the center of their downtown LA protest.
Loading...
CBS2 lists possible May Day 2012 traffic hotspots throughout the city based on the events on the map.
See photos of the protest at Downtown LA. All photos by Joe Moller. Story continues below.
PHOTO GALLERY
Scenes from May Day 2012 In LA
The LA Department of Transportation has more information and a map about the convergence in downtown LA: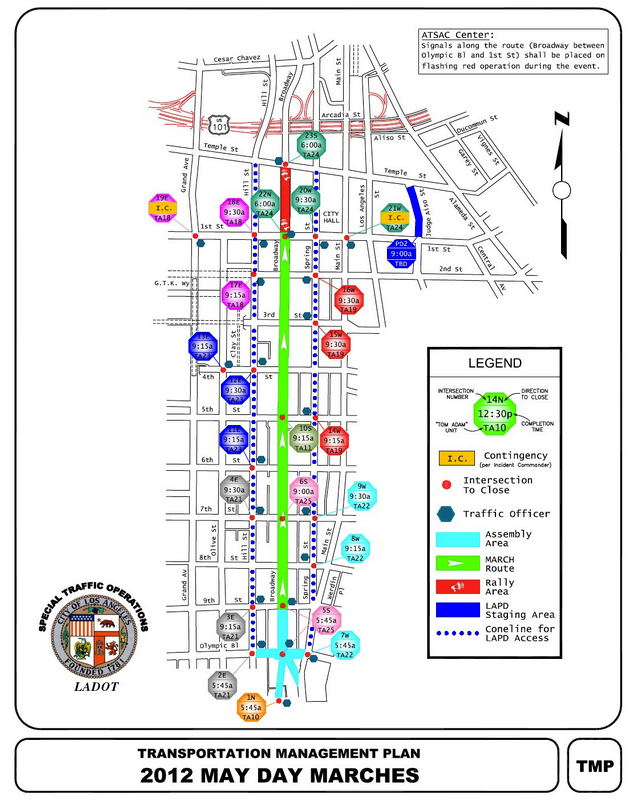 Immigrant advocacy groups are rallying at American Reclamation, a Glendale company that sorts commercial trash for recyclable materials. Organized by the Los Angeles County Federation of Labor, AFL-CIO, the rally will protest the working conditions of the mostly immigrant workforce at the plant. Civil rights leader Dolores Huerta, LA City Council Member Eric Garcetti and LA City Controller Wendy Greuel will be there to speak out against poverty wages and hazardous working conditions, and band Outernational will perform, "Todos Somos Ilegales/We Are All Illegal." 500 people are expected.
Additionally, the Coalition for Humane Immigrant Rights of Los Angeles (CHIRLA), is collaborating with organizations like Center for Community Change, California Dream Betwork, Filipino Workers Center and the Full Immigrant Rights Coalition to host a march and rally at 1 p.m. on the corner of South Broadway and West Olympic Boulevards in Downtown LA. All marchers are encouraged to bring American flags, wear white t-shirts and protect themselves against the sun.
Nationwide, the Occupy movement is calling for a "general strike" known as "Day Without the 99 Percent," modeled partly on the 2006 immigration protests across the country called "Day Without Immigrants." Protesters are encouraged to skip school and work as well as banking transactions and shopping.
A May Day rally in 2007 ended in violence at MacArthur Park as police tried to break up a peaceful rally for being an "unlawful assembly," and protesters sued the city. The City of Los Angeles ended up paying a $12.85 million settlement to the protesters who were hurt that day, now referred to as the "May Day Melee."