Monday marks the first morning of the 15th annual Milken Conference, a four-day long event hosted by the Milken Institute at the Beverly Hilton Hotel. Thousands of top-tier entrepreneurs, journalists, investors, executives, philanthropists, forward-thinking academic experts, journalists, senior foreign and U.S. government officials, scientists and Nobel laureates congregate this week to discuss today's most pressing social, political and economic challenges.
Over 140 panels -- lead by the likes of the 42nd President of the United States Bill Clinton, calPERS CIO Joseph Dear, LAUSD Superintendent John Deasy, Governor Jerry Brown, NBA legend Magic Johnson, House Majority Leader Eric Cantor, state Controller John Chiang, Director of MOCA Jeffrey Deitch, former Mayor of Chicago Richard Daley, former Governor of California Gray Davis, to name a few -- will cover issues ranging from business, finance, policy, education, health, energy and philanthropy.
Read last year's coverage here and follow the Milken Global Conference live blog below:
BEFORE YOU GO
05/02/2012 5:09 PM EDT
The End?
"It's a great disgrace to write the epitaph of this country," says Bill Clinton moments exits the stage and receives a standing ovation.
05/02/2012 4:59 PM EDT
The Biggest Problem In The World Today
"We've confused liberal and conservative with communitarian and separatist." -Bill Clinton
05/02/2012 4:53 PM EDT
In The Other Room:
05/02/2012 4:52 PM EDT
A Log Cabin...
@ CherylKnopp :

Bill Clinton at #2012GC "Every politician's first goal is to convince you that he grew up in a log cabin he built himself."
05/02/2012 4:49 PM EDT
Bill Clinton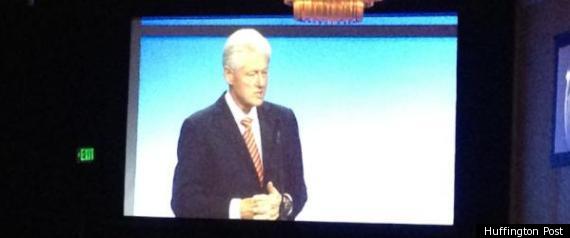 05/02/2012 4:47 PM EDT
Taking Things For Granted
"Each other of us had someone who helped us some way." - Bill Clinton
05/02/2012 4:44 PM EDT
Hillz
"I do have a wife who has a travelling job," jokes President Bill Clinton at #2012GC.
05/02/2012 4:41 PM EDT
@ MilkenInstitute :

Clinton: 3% budget restraint only works during times of growth #2012GC
05/02/2012 4:40 PM EDT
#Eurozone
"I'm not here to defend the indefensible," says President Bill Clinton. "I know there are a lot of problems in a lot of places, but I also know you can't get blood out of a turnip."
05/02/2012 4:38 PM EDT
POTUS Loves Books
President Bill Clinton loves his books. First came his New York Times review of "The Passage of Power," by Robert Caro this morning. Now at Milken, he begins his address with a reference to "Being Wrong," by Kathryn Schulz.