This season's Costume Institute exhibition at The Met promises to be one of imagination and curiosity, showcasing the "Impossible Conversations" between two of history's most iconic designers. Miuccia Prada and Elsa Schiaparelli will share their parallel lives in a parallel universe, set up through a grand display of their strikingly similar works, personalities and careers.
While Prada has become a household name both in and out of the fashion circle, her clothing is both surreal and boundary-pushing, just as Schiaparelli's was in the '30s while she worked out of Paris and dressed Hollywood stars like Mae West, Katherine Hepburn and Marlene Deitrich. Both women share an appreciation for the abstract and a love of unconventional beauty. They've collaborated with artists and used subversive tactics in their designs, as well as, experimented with fabric and deconstruction. And the list goes on.
These conversations are certainly impossible now, but the idea of their synchronicity when it comes to design, feminism and creativity is a fascinating, if not inspiring, trajectory that anyone will be able to explore May 10th through August 19th at The Met.
Below, a quick primer on the most poignent artistic and creative connections between Schiaparelli and Prada.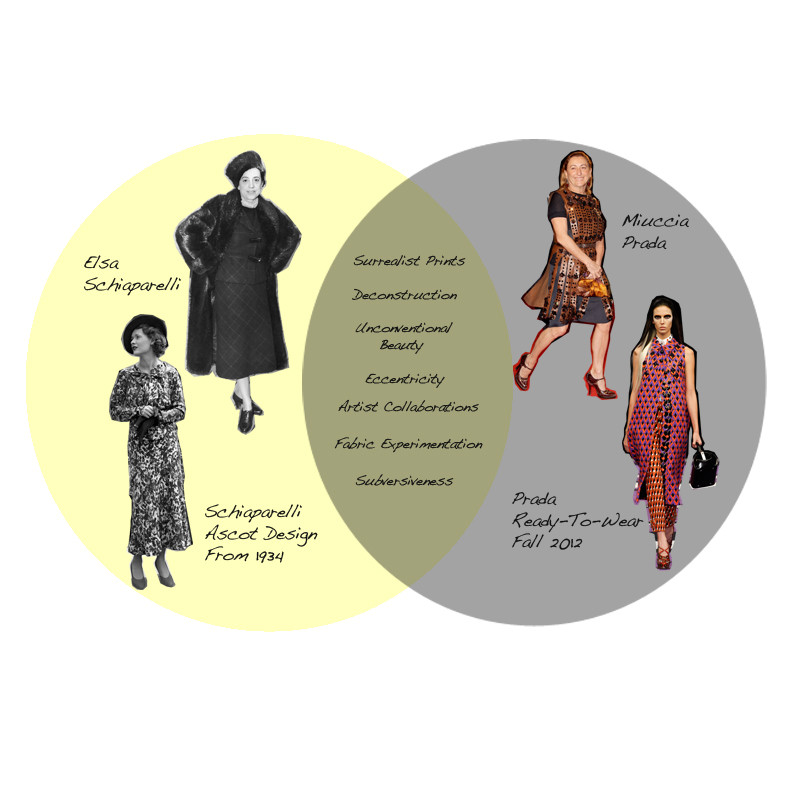 Getty/GoRunway